So you've decided to become a professional personal trainer? Well done! It's a lucrative career where you help clients achieve their health and fitness goals. The job has various perks, such as setting your own rate and working according to your schedule. 
However, the position has its fair share of challenges, such as demanding clients, long working hours, and the pressure to stay updated with the latest training techniques.
Let's take a closer look into personal trainers' lives. I'll explain all the pros and cons of being a personal trainer so you can make an informed decision about this career.
Pros of Becoming a Personal Trainer
Becoming a professional personal trainer isn't a walk in the park, but it's not too hard either. 
People often pursue this career for various reasons, including flexible working schedules, the potential for high earnings, and working in multiple settings. 
1. Flexible Schedule
The flexibility in scheduling is one of the most significant pros of becoming a personal trainer. 
This flexibility allows personal trainers to maintain a better work-life balance according to their needs and lifestyle. It's not a traditional 9 to 5 job; it's a job where you design your working hours and choose when you want to work with each client.
For example, if you're a morning person, you can start working at 6 am and finish by noon. If you prefer to work evenings and weekends, that works too! 
The flexible working hours are a huge perk for trainers with families or those pursuing further education. It allows them to allocate time for other activities and personal priorities.
Moreover, as an independent contractor, you can take time off whenever you need it without asking for a boss's permission. For instance, you can reschedule your clients if you want to take a weeklong vacation. That way, you have more control over your calendar.
It's worth noting that the freedom of making your own schedule comes with the responsibility of managing your time properly. You want to ensure you're maximizing your time for clients, taking care of administrative tasks, and continuing your education.
It takes a lot of time and practice to maintain a balanced schedule. But after all, the flexibility of setting your hours and being your boss is well worth the effort.
2. High-Income Potential
Becoming a professional personal trainer is a rewarding career, personally and financially. On a personal level, you get the opportunity to guide clients to achieve their fitness goals and change their lives. 
This brings a sense of satisfaction and fulfillment that you won't find in many jobs. As you watch your clients progress through your tailored training programs, you'll see the impact of your knowledge, expertise, and effort on them. 
Regarding the financial aspect, being a personal trainer can be a lucrative career. According to the U.S. Bureau of Labor Statistics, in 2021, the median pay for fitness trainers and instructors was $40,700 per year and $19.57 per hour. 
Glassdoor says personal trainers have an average annual salary of $51,187 in 2022. According to Indeed, the yearly average wage of personal trainers in the USA in 2023 is $42,037.
Looking at the above numbers, you can see that becoming a personal trainer can be a rewarding career. However, there's a massive variation in salaries. That's because several factors, such as education, experience, specialty, and location, impact how much you can make as a personal trainer.
But the biggest factor is you. If you want to work harder, you'll get more money. That's the beauty of it.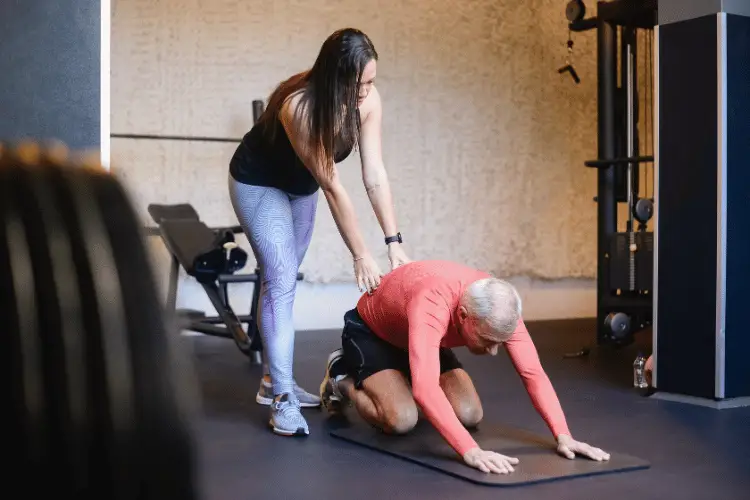 Experienced trainers with unique skills and specialties can earn significantly higher than average trainers. According to Glassdoor, personal trainers can make up to $117K annually. 
Furthermore, the fitness industry has consistently grown as more individuals seek professional guidance. This trend contributes to a higher demand for professional personal trainers, allowing more opportunities and potential for higher incomes.
3. Healthy Lifestyle
As a personal trainer, you embrace a healthy lifestyle and are expected to lead by example for your clients. You don't have to be extremely muscular, but being fit will help motivate your clients and guide them to a healthy lifestyle.
By engaging in regular exercise, self-care, and proper nutrition, personal trainers don't only set a positive example for their clients, but they enjoy the benefits of a healthy lifestyle too. These benefits include:
Improved physical and mental health
Boosted immunity
Better sleep quality
Reduced risk of chronic diseases such as diabetes, heart disease, and obesity
High energy levels
Moreover, as a fitness trainer, you'll be immersed in the fitness industry and will follow the latest trends in training and nutrition. This ongoing education, research, and knowledge in health and wellness allow you to adapt your training techniques, diet, and lifestyle accordingly.
4. Multiple Career Paths
As the fitness industry grows, more job opportunities and career paths appear. Since there's a huge competition among personal trainers, having only one certification isn't usually enough. Personal trainers now specialize in various fields and job types. 
For job types, you can work as a full-time personal trainer in a gym or a fitness club. You can also become a freelancer trainer and work part-time according to your schedule. Starting your personal training business is also a decent option, especially if you build a vast client base.
Let's take a closer look at the most popular career options for personal trainers:
Yoga instructor: Leads yoga classes and teaches clients about yoga, breathing, meditation, and relaxation techniques.
Online personal trainer: As digital life is taking over, many personal trainers offer their services online through their platforms. They create personalized training and nutritional programs for clients worldwide.
Fitness writer/Influencer: Some personal trainers prefer to share their knowledge and expertise through websites, blogs, and social media. They can earn through sponsored content and ads.
Fitness facility owner or manager: Experienced trainers often opt for managerial roles in gyms and fitness clubs or even start their businesses.
Corporate fitness consultants: Some personal trainers work with companies and businesses to provide fitness programs for employees.
As you can see, personal training is a versatile career with multiple career options that suit every personality. 
If you prefer interacting with numerous people, consider becoming a boot camp leader or a group instructor. In case you like working remotely, consider becoming an online personal trainer.
5. Various Work Settings
If you're the kind of person who dislikes working a 9-5 office-based job, then becoming a personal trainer is your cup of tea. You can work almost anywhere as a personal trainer, not just in a gym. 
For example, some personal trainers have training studios where they conduct training sessions for their clients. This setting offers stability and a more intimate training experience for coaches and clients.
You can conduct sessions in parks, beaches, and other outdoor settings if you enjoy working outdoors. This is ideal if you prefer to experience the fresh air and introduce natural elements into your training sessions.
What's more, personal trainers offer in-home training sessions for clients who value the privacy and convenience of home workouts. This option demands the trainer to be flexible and adapt to working in a limited space with less equipment.
With the rise of digital life, personal trainers now offer virtual coaching and training sessions through video calls and online platforms. This allows personal trainers to craft their schedules and work from the comfort of their homes.
On top of that, the demand for personal trainers is growing everywhere, from small suburbs to big towns and cities. According to the BLS, the employment of fitness instructors and trainers is expected to grow by 19% from 2021 to 2023, much faster than most occupations.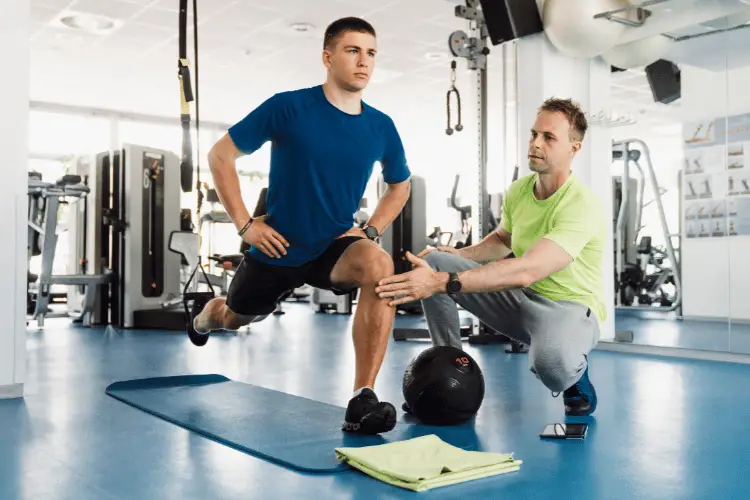 Cons of Becoming a Personal Trainer
Looking at the pros of being a personal trainer, you might be tempted to kickstart your career in the fitness industry. 
However, you should be aware that the flexible working hours, potential for high income, and other perks don't come for free. Becoming a personal trainer also has a lot of downsides that you should understand before you make your decision.
1. The Cost of Becoming a Personal Trainer
For starters, becoming a personal trainer can be expensive. The cost highly depends on various factors such as level of education, certifications, and the need for equipment. Let's explain more.
You don't necessarily need a certification to be a personal trainer. However, most gyms, employers, and clients hire only certified trainers. Well, how much does it cost?
First, you need to have a high school diploma or equivalent to be eligible to enroll in a personal training program. After that, you need to obtain a personal training certificate from accredited and reputable organizations like ACE, ISSA, NASM, ACSM, or NFPT. 
The price will depend on the certifying organization, certificate level, and any additional specializations you might pursue. Generally speaking, obtaining a personal trainer certificate can cost you anywhere between $200 and $600. 
More advanced certificates can cost more; for example, NASM is one of the most popular certifications, and it costs $799 for the exam and materials.
Moreover, obtaining a certificate in a relevant field is a huge plus for personal trainers. You might want to get an exercise, biology, nutrition, or sports science certificate. There are many online courses for these topics that cost a few thousand dollars.
If you plan to work independently or in client homes, you must invest in basic fitness equipment such as resistance bands, dumbbells, stability balls, exercise mats, and more. 
Some materials cost a hundred dollars, while more advanced items can cost much more. So it depends on what you need and what type of training you provide.
Moreover, your competition is getting smarter. Every day there are more and more personal trainers with college degrees. If you are looking to walk into the scene and be the most knowledgeable person, you won't. You've got to start from the bottom and understand that there are phases of growth in this industry.
2. Random Working Hours
One of the cons of becoming a personal trainer is the irregular and long working hours. But what about the flexible working schedules mentioned earlier? If you're just starting out, you'll have to adjust your schedule around your clients and not the other way around. 
You might find yourself working evenings, weekends, early mornings, or split shifts. That's because many clients prefer their sessions to be after typical working hours. These random working hours might force you to miss dinner with family or a night out with friends.
Moreover, your schedule might change frequently based on your clients' needs. One week you might work mornings while the following week only work evenings. This inconsistency makes it hard for personal trainers to establish a routine and achieve a work-life balance.
As you attract more clients and become an experienced personal trainer, you'll get more control over your schedule and working hours.
3. Demanding Clients
Dealing with multiple clients with different personalities is one of the most significant challenges for personal trainers.
Of course, dealing with clients can be frustrating in many jobs, but when it comes to personal training, it's more critical as your goal is to change someone's life. As such, clients can be demanding in various ways. 
For example, some clients have unrealistic expectations about their fitness goals and how fast they want to achieve them. They might even blame you for not doing your best if they don't see their expected unrealistic goals met.
Moreover, some clients constantly demand communication even outside their scheduled sessions. While you should answer all the client's questions and concerns, sometimes questions and inquiries become overwhelming, especially if they contact you in your free time.
It's also not uncommon for clients to frequently reschedule or cancel their sessions. They might have their reasons, but consistent rescheduling and cancellation thwarts your schedule and can lead to lower income.
Furthermore, there will be times when clients neglect your advice regarding their training techniques or diet plans. Or even worse, they might lie about following their personalized training regimens. These incidents are more common in online personal training.
4. Inconsistent Income
While personal trainers can have incredibly high salaries, it's not always the case. That's because what you earn depends on your clients; if you don't have clients, you'll not earn money. 
As an independent contractor, you're responsible for attracting new clients and satisfying your current ones. It's not an easy task, especially for beginners who usually struggle to find their first client.
Seasonal fluctuations also significantly affect your income as a personal trainer. The demand for personal trainers is usually higher in the summer and New Year.
On top of that, there's little job security as a personal trainer. That's because you don't have a fixed salary, and your whole income depends on the number of clients and the demands for your service. So if you're going through a slow period or suffering an injury, your paychecks will stop coming in.
According to Glassdoor, personal trainers can make as low as $42K and up to $117 annually. This shows how unstable the industry is regarding salaries. Since most personal trainers are independent contractors and small business owners, they set their own rates depending on various factors. 
Moreover, independent contractors usually miss out on the employment benefits most jobs offer. That means paying for their own health insurance and saving for their retirement on their own, which isn't convenient for everyone. 
You can always work for a gym starting out. You'll get paid much less money, but you'll get the experience and get your name out there. This is how I started and I believe that it is a solid way to start, especially if you're younger.
5. Risk of Injury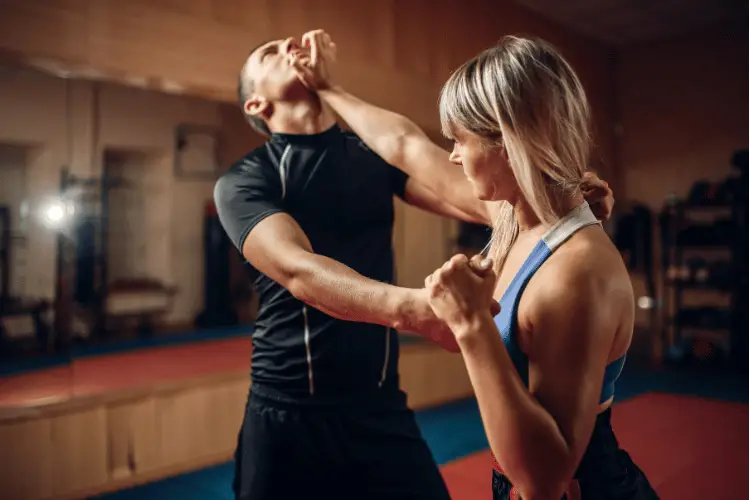 As a personal trainer, you'll demonstrate several exercises for your clients throughout the day. While this may help you stay healthier yourself, it comes with the risk of injury as well. What's more, the client's safety should also be your concern. 
For example, if a client dropped a heavy dumbbell on his toes and got injured, he might blame you and even sue you for not looking after him. 
In addition, in boot camps and group sessions, you'll practically do the whole workout with the group, which is tiring and puts you at risk of injury in the long run.
As you get older, it becomes more challenging to stay fit. Some people believe that being a personal trainer is a young man's trade. This might be true, as some trainers struggle to stay fit and healthy as they age. 
However, many trainers find a way to stay in shape even after retiring. The main point is that you spend too much time and effort to help others achieve their fitness goals to the point that you might even forget about training yourself.
To Wrap Up
Now that we explained the pros and cons of being a personal trainer, it's clear that it's not for everyone. But for the right person, it can be an incredibly rewarding and fulfilling career.
If you're passionate about fitness and health and want to help people change their lives, this job could be an excellent career path for you.
The flexibility and job satisfaction as a personal trainer make the challenges worthwhile for many trainers. But it's worth noting that the job has many downsides, such as the random working hours, inconsistent income, and dealing with demanding clients. 
We hope our guide helped you see the bigger picture of becoming a personal trainer. Now you should be able to determine if the pros outweigh the cons in your case and decide whether you're ready to become a personal trainer.
Resources: 
https://www.bls.gov/ooh/personal-care-and-service/fitness-trainers-and-instructors.htm
https://www.glassdoor.com/Salaries/personal-trainer-salary-SRCH_KO0,16.htm
https://www.indeed.com/career/personal-trainer/salaries
https://www.issaonline.com/blog/post/guide-to-working-with-challenging-personal-training-clients