Holding your phone while working out at the gym can be a hassle. It doesn't only distract you, but can also limit your movements and keep you from doing certain moves or workouts.
However, it's completely understandable that you wouldn't want to leave it in your bag or even on a flat surface somewhere nearby. This dilemma has many gym-goers wondering: where should I put my phone at the gym?
Well, the easiest way is to use any sort of wearable accessories like a sports armband or somewhere on your body that it won't get in the way.
But there are also other ways of keeping your phone safe as you work out.
Why Shouldn't I Leave My Phone Unattended at the Gym?
Considering that gyms are public spaces, people are always coming and going alone or in groups. Most of the time, they leave their possessions unattended, which makes it a perfect hunting ground for thieves.
According to a report by KSL News, property crimes at gyms are on the rise. In 2019, police authorities received over 700 calls. Although it dropped by 40% in 2020 with 420 calls (a drop probably seen because everyone was at home due to the pandemic and not going to the gym), it quickly picked up soon after.
Then, more recently, in 2021, authorities arrested a 23-year-old woman for stealing wallets, credit cards, and car keys from gym lockers.
Additionally, the gyms or recreational facilities in Utah that often experience theft are those run by the government, such as the following:
| | | |
| --- | --- | --- |
| Gym Name | Number of Locations | Total Calls |
| Provo Rec Center | One location | 131 calls |
| West Valley Family Fitness Center | One location | 111 calls |
| Life Time Fitness | One location | 94 calls |
| VASA Fitness | 25 locations | 53 calls |
| Lehi Legacy Center | One location | 46 calls |
| Kearns Oquirrh Park Fitness Center | One location | 41 calls |
| Cottonwood Heights Rec Center | One location | 38 calls |
| The Sports Mall | One location | 37 calls |
| Marshall White Center | One location | 35 calls |
| Treehouse Athletic Club | One location | 30 calls |
Should I Keep My Phone in My Car?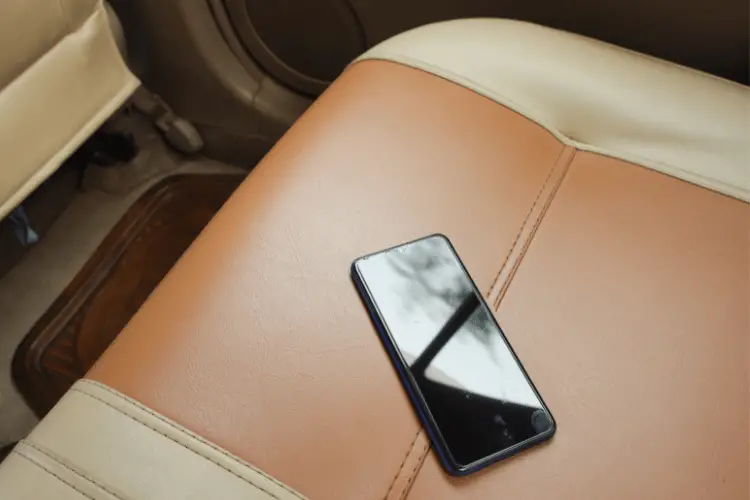 Storing valuable items like your phone in the car sounds like a brilliant idea for many. However, despite your vehicle being outside the gym premises, it's still at risk of getting stolen.
The thing is, people can easily break into your car. It only takes a few smashes to your window before your valuables are gone forever.
---
Affiliate Disclosure: We may earn a commission if you click a link on our site and make a purchase. For more info, see our disclaimer.
---
Additionally, keeping valuable items in your car puts your entire vehicle at risk of theft. According to Statista, there were at least 268 car theft incidents for every 100,000 people in 2021.
As such, you shouldn't store your phone in your car, no matter how bright it is outside or if your vehicle is near a surveillance camera.
However, if you have no other choice, you can always opt for a vehicle safe. This is a mini compartment that allows you to store items that you don't want to leave in a highly visible area.
Can I Keep My Phone in the Gym Locker?
Lockers tucked away in a corner are more attractive to thieves because this area is usually not covered by surveillance cameras.
Moreover, thieves can easily break into your locker if it's in a corner where there's no surveillance camera. That's why you should always store your gym bag in high-traffic areas, like near the showers or the main area.
As mentioned earlier, many people have been arrested because they got caught stealing from gym lockers. So, keeping your phone there is a huge no-no.
Nevertheless, if you're adamant about using the lockers, you should bring your own padlock to ensure the locker and your belongings are safe and sound. Even then, a padlock is easy to get around with the right tool.
Smart Ideas on Where to Keep Your Phone at the Gym
Avoid keeping your phone in your pocket as much as possible. I've seen too many people damage their phones like that.
It can also lead to unwanted injuries.
That said, here are a few smart ideas to keep your phone safe while working out at the gym:
Sports Armbands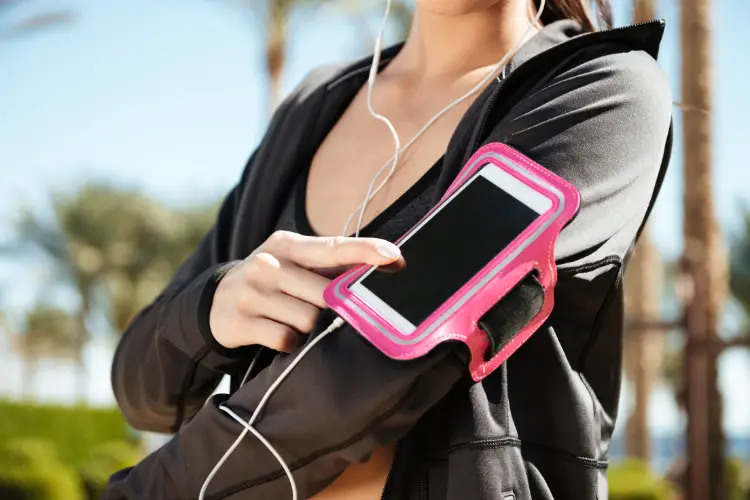 Sports armbands are a budget-friendly and effective way to keep your phone on you while working out at the gym. Most armbands are made from breathable fabric, so they won't affect your performance even if you do high-intensity exercises.
Moreover, wearing them takes little to no effort at all! Simply place your phone inside, zip it up, then strap it on your arm.
Additionally, you can store other lightweight belongings in the armbands, such as earphones, keys, or cash.
However, the only downside of sports armbands is that you may not be able to use them if you're going to lift weights. They might get in the way and may even lead to injuries. So be smart if you do go this route.
Sports Bra with Pockets
A new trend rising in the fitness community is sports bras with back pockets. These innovative clothing items have saved tons of women from the hassle of carrying purses around the gym.
The good thing about these sports bras is that they're just like the regular kind they offer in the market. They don't feel different—it's just that they have a pocket at the back, so you can easily store your phone or listen to music with your earphones.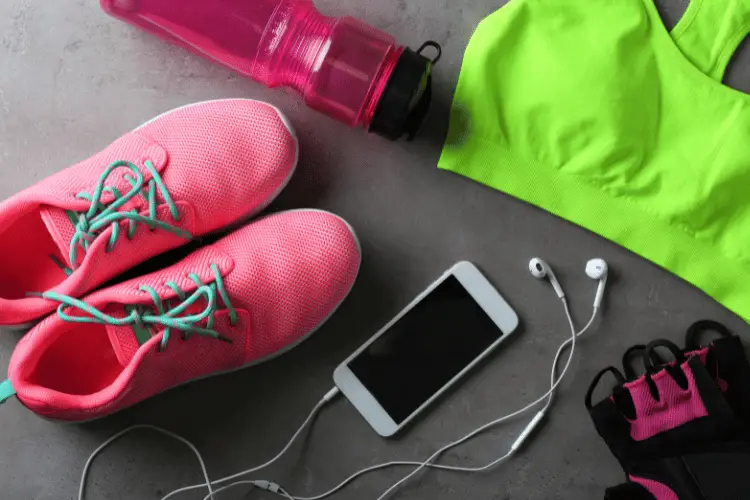 However, the only setback is that you can't use a bench or shoulder press when storing your phone in the back of your bra. Doing this may quite possibly damage your device.
Sports Wristbands
Did you know that there are wristbands specifically made for smartphones? Sports wristbands have elastic velcro-type bracelets with a phone holder on top.
These wristbands allow you to control your phone while working out. So, you can adjust the volume of your music, check text messages, and even answer calls.
Regardless of their ease of use, sports wristbands aren't everyone's cup of tea because they can be a bit of a hassle. They can add weight to your hands, making basic moves like lifting weights or doing push-ups more of a challenge.
Strap-On Pouches
If you don't like wearing armbands or wristbands, you can opt for strap-on pouches. You can easily put them on your waist and thighs, or even clip them to the back of your sports bra—-the possibilities are endless.
Since you can easily remove the pouch, you can quickly transfer it to another area if it's getting in the way.
Final Thoughts
If you've ever wondered where you should put your phone at the gym, you now have a plethora of options.
You can use an arm or wristband to easily access your phone. Alternatively, you can wear a sports bra with a rear pocket or you can use strap-on pouches that you can easily take on and off at any time!
References