It's no secret that investing in a gym membership can be a game changer. Whether you're a beginner or a gym rat, gym memberships give you access to various equipment, professional guidance, services, and facilities to improve your health and fitness.
The gym industry is growing drastically, and after the pandemic, the fitness industry rebounded from a massive decline and now growing more than ever.
With over 115,047 gyms and fitness clubs in the U.S.A and more than 64.19 million gym memberships, there's fierce competition in the gym industry.
So if you're a gym owner looking to expand or just getting into the fitness industry, facts and statistics are great tools to understand the business further.
How Many People Have Gym Memberships?
The fitness industry has been booming in the past few years, it's evident in the number of gym membership owners. Around 52.6 million Americans go to the gym, this is based on the fact that there were 64.19 million gym memberships in 2019.
Check out this table of states with the most gyms and fitness centers.
| | | |
| --- | --- | --- |
| State | Gyms Per Capita | People Per Gym |
| Minnesota | 10 | 9,667 |
| Connecticut | 7 | 13,149 |
| Wisconsin | 7 | 13,408 |
| Iowa | 7 | 13,512 |
| New Hampshire | 7 | 13,761 |
| Louisiana | 7 | 13,770 |
| Rhode Island | 7 | 13,900 |
| Colorado | 7 | 14,062 |
| Nebraska | 7 | 14,127 |
As you can see, Minnesota has the most gyms and fitness clubs in the country. There are 775 health clubs there, and 999,112 residents visit these health clubs. Nebraska is at the bottom of the list with only 246 fitness clubs and 379,516 residents visiting gyms.
Demographics of Gym Members
Demographic statistics are significant for gym owners as they understand their customers better. As such, gym owners can design their services depending on their customers' needs. 
1. Gender
For instance, if most of your gym members are females, you should implement female-friendly services such as yoga classes and Zumba. 
Many think that the majority of gym memberships belong to males, however, that's not always the case. According to IHRSA, in 2020, more than 50% of gym members were women.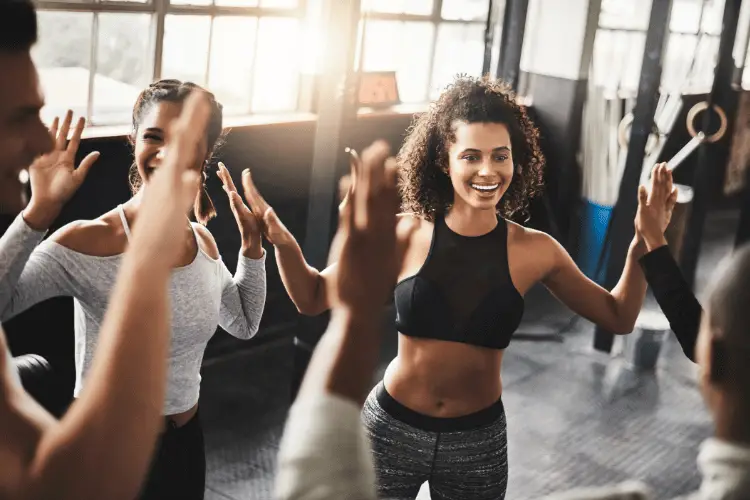 That's why having fitness studio activities such as yoga, pilates, Les Milles classes, and barre classes are now a must in every gym. In 2020, 14% of females showed more interest in virtual yoga classes compared to only 10% of men.
Even though the above numbers show that more women go to gyms, men usually spend more time exercising. 
According to the Bureau of Labor Statistics, in 2019, 20.7% of men engaged in daily physical activities and exercise compared to 18% of women.
Furthermore, women spend an average of 0.3 hours on recreation, sports, and exercise daily. Meanwhile, men spend a daily average of 0.44 hours.
2. Age
Young adults (18-32 years old) are the largest age group in the gym membership market at 60.6%. This 35 to 54 age group follows, coming in at 30.70%. People aged 55 or older are the smallest group of gym members at only 22.3%.
Check this table to see how many people in each age group were gym members in 2019.
| | |
| --- | --- |
| Number of Members in Millions | Age |
| 10.3 | 6-17 |
| 19.83 | 18-34 |
| 19.72 | 35-54 |
| 6.44 | 55-64 |
| 7.88 | 65+ |
3. Race
According to IHRSA, in 2021, Caucasian/White and non-Hispanic people make up the majority of gym-goers (66.34%), followed by Hispanics (12.78%) and African Americans (12.30%).
Gym Membership Costs
How much does a gym membership cost? This is one of the most common questions regarding gym memberships. 
The average cost of gym membership in the USA ranges from $20 to $60 per month. The cost varies significantly depending on many factors, such as the gym, location, services, and duration. Let's take a closer look at these factors.
Duration
The price of your gym membership varies depending on the duration of your contract. For instance, a 6-month subscription costs more than a 3-month one. However, annual memberships are usually available with a discounted offer.
Location
Gym subscriptions vary depending on your location. Gyms in urban areas are usually more expensive than those in rural ones due to high overhead costs. To explain more, let's see the countries with the most expensive monthly gym memberships:
Austria: $107.38
United Arab Emirates: $105.72
Qatar: $105.31
Japan: $99.19
China: $86.61
Egypt: $82.86
Saudi Arabia: $79.57
Iceland: $77.08
Czechia: $76.57
Switzerland: $73.04
With over 41,370 locations, the United States has the most gyms worldwide. As such, there's a significant variation in membership costs per state. Let's look at the top 10 states with the most expensive monthly gym subscriptions.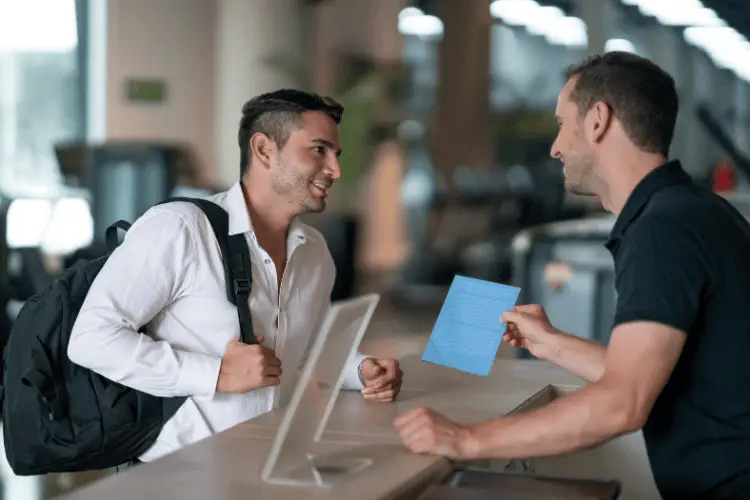 New York: $75.32
Alaska: $75.28
Hawaii: $73.68
Connecticut: $68.81
New Jersey: $67.57
Missouri: $67.55
California: $65.42
Idaho: $65.42
Tennessee: $65.27
Iowa: $64.93
Now let's see which states have the cheapest gym memberships.
South Dakota: $40.66
Montana: $40.83
Vermont: $41.50
North Carolina: $44.41
Mississippi: $44.86
Kentucky: $44.87
Rhode Island: $46.25
West Virginia: $47.37
Delaware: $48.49
Maine: $48.50
Look at the above numbers, New York has the most costly monthly gym membership fees with an average of $75.32. Meanwhile, Maine has the lowest average monthly fee at $48.50.
Services and Competition
Special services, such as group classes and personal training, also affect how much a gym membership costs. Every gym is different, and not all offer the same services. 
The US fitness industry revenue was $33.25 billion in 2021. 
Accordingly, gym chains compete in a tight race to offer their customers the best services and facilities at affordable prices. Let's see the cost of memberships in some of the most popular gym chains and the services they offer.
| | | |
| --- | --- | --- |
| Gym | Monthly Subscription Fees | Basic Amenities |
| 24-Hour Fitness | $20-$50 | Free weights, cardio equipment, studio rooms, saunas, floor equipment, weight machines, and locker rooms. |
| Planet Fitness | $10-$24.99 | Weight machines, floor spaces, dumbbells, and cardio machines. |
| Anytime Fitness | $41 | Dumbbells, boxes, cardio equipment, yoga mats, barbells and racks, kettlebells, and weight machines |
| Gold's Gym | $35-$60 | Heavy dumbbells, weight machines, showers, saunas, lockers, personal training, group fitness classes, and lap pools. |
| Equinox | $200+ | Steam rooms, saunas, lifestyle shop, full-service spa, cold eucalyptus towels, and unlimited group classes. |
| LA Fitness | $19.99+ | Special floor for cardio equipment, weight machines, group fitness offerings, and personal training. |
Even though gym memberships can cost up to $200 per month in luxurious fitness clubs, almost 50% of gym-goers pay $50 or less monthly. About one-third of gym members pay $50 or above. 
As such, if you're a gym owner, the best thing to do is to offer as many packages as possible. Start with low-budget packages and up to more advanced subscriptions to ensure you attract the widest audience.
Let's see some stats about how much people pay for gym memberships.
The average price of a monthly gym membership is $51
28% of gym-goers pay between $25 and $49 for a monthly membership
Boutique gyms cost nearly $90 for a monthly subscription plan
Only 13% of people pay between $50 and $74 per month for the gym
6% of gym members pay $75 to $99 for their monthly gym subscription
Around 13% of people pay more than $100 per month for their gym membership
Facts About Gym Attendance Patterns 
As a gym owner, learning more about your customers' behavior and training patterns is significant to satisfy them. It's worth noting that if someone holds a gym membership, it doesn't mean he uses it regularly. 
Consistency
IHRSA says that 50% of new gym members stop going to the gym after six months. So why do people quit? There's no one answer to that. Some quit because they don't have enough time, while others just feel unmotivated to continue. 
If you're a gym owner, it would be best to conduct surveys to see why your customers quit. You can also ask them if they have any suggestions to make your gym better for them. Here are some facts about the consistency of gym members.
9 million non-members visited the gym an average of 24 days per year in 2019.
More than 62.5 million gym members visited the gym an average of 104 days per year in 2019.
After one year, 14% of women quit the gym compared to 8% of male members.
People continue going to the gym because they like the gym location (50%), receive positive interactions with gym staff (45%), or like the gym equipment (38%)
Most memberships last for 4.7 years on average
Attendance Time
Following your customer's attendance pattern is critical to improving your gym business. For instance, most people go to the gym before work, so you should consider opening your gym early as possible. Let's see the numbers.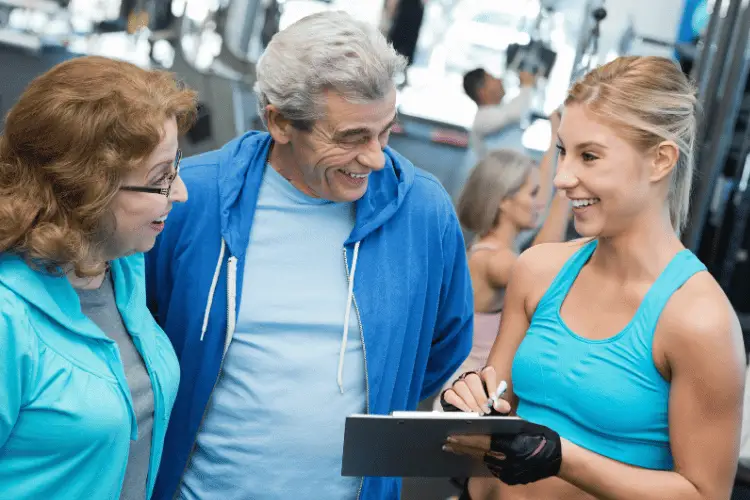 Statistica says that 38% of gym members hit the gym between 5 AM and 9 AM before work
Around 38% of gym members attend the gym multiple times per week
15% of gym members go to the gym once a week
Nearly 18% of gym members never attend
21% of gym-goers spend between 30 to 60 minutes per session
35% of gym members stay in the gym for an hour or two
This table further explains when the majority of people go to the gym.
| | |
| --- | --- |
| Percentage of Gym Members | Attendance Time |
| 29% | 9 AM to noon |
| 25% | Noon to 2 PM |
| 20% | 2 PM to 5 PM |
| 25% | 5 PM to 8 PM |
| 16% | 8 PM to 11 PM |
As you can see, most people go to the gym in the early morning, before work, while fewer people go in the evening.
Gym Usage
It's no secret that people join gyms for several purposes. That's why it's essential to understand what equipment people use the most and how much time they spend using them. This is handy if you're starting a gym and wondering which equipment and tools to invest in.
31% of gym members use convenience items like towels, water, and snacks
Around 38% of gym-goers use fitness, weights, and cardio machines
30% of gym members use sports tools such as punching bags and martial arts equipment
29% of gym members work with a personal trainer
24% of gym enthusiasts use pools
23% of gym members follow professional advice such as workout and nutrition plans
About 24% of gym-goers interact with wellness facilities such as spas and saunas.
21% of gym members opt for licensed coaches and team training
20% of gym goers prefer online workouts and courses
Only 14% of gymgoers opt for EMS training
14% of gym members train on outdoor grounds
Statistics about Gym Retention Statistics
Gym retention statistics are vital for understanding how well gyms and fitness centers satisfy their customers and keep them coming. While attracting new customers is important, you should never neglect your current customers.
Here are some key facts and statistics about gym retention.
Traditional fitness clubs have an average retention rate of 71.4%
Gym-goers who attend fitness classes are less likely to cancel their membership
Personal training studios have an average retention rate of 80%
Frequent interaction between gym staff and members can reduce membership cancellation rates by 33%
Group exercise studios average a 73% retention rate
The Effects Of Technology On Gym Memberships
Even though digital fitness has been around since 2014, the COVID-19 pandemic contributed to the booming of digital transformation. 
Fitness apps and online virtual classes have completely changed how people approach exercising and working out. Moreover, most gyms now rely on apps for bookings to facilitate the process for their customers.
Generally speaking, the pandemic accelerated the process of digital transformation in all aspects and regions by three to four years. 
The fitness industry is no exception. According to Forbes, 42% of people said they'll still use virtual workouts, even after the gyms reopen. What's more, 40% have booked online fitness classes.
Check out these facts regarding fitness apps:
Freeletics say that 74% of Americans tried fitness apps during the pandemic
Almost 70% of Americans downloaded at least one fitness app during quarantine
According to Freeletics, in 2020, the average American downloaded two fitness apps and took at least four virtual classes during the quarantine
According to Forbes, the most popular virtual classes are Yoga (32%), HIIT (15.6%), Pilates (8.3%), and Barre (7.9%)
To Wrap Up
Gym memberships have become massively popular in the last decade as people tend to understand the significance of staying active and healthy. 
Depending on the membership level, members often have access to several gym facilities, equipment, and extra services like personal training and group sessions. 
From a gym owner's point of view, you might ask questions like how many people have active memberships in the U.S.? How many cancel their memberships? Which age group goes to the gym the most?
We hope our facts and statistics about gym memberships answered all your questions. Remember that numbers are incredibly helpful in improving and developing your gym and services to attract more customers. Best of luck!
Resources: