Becoming a personal trainer is exciting. Due to the varying incomes of personal trainers, it can both seem like a lucrative opportunity or a dead end, depending on who you ask.
That being said, there are many questions about this career choice that may keep you up at night. How did other people become personal trainers? Is it easy to get into? What's the average salary of a personal trainer?
Dealing with the data can be overwhelming at times, especially when you're looking up personal trainer statistics. After all, there's a huge wealth of data out there to sift through.
I've put together the following statistics so that you can actually sit down and think this through. Whether you're new to the profession or not, this is eye opening material.
Personal Trainer Annual Salary
This is, by far, the most asked question: How much does a trainer make a year?
Personal trainers usually work with clients on an hourly basis and their income varies greatly depending on where they're employed and how much they charge per hour.
Not all personal trainers are independent contractors; some are on salary and/or work on commission in health clubs or gyms.
In 2021, the United States Bureau of Labor Statistic (BLS) reported that personal trainers earn an average of $40,700 per year. That equates to $19.57 per hour.
Now, let's discuss both ends of the spectrum.
The bottom 10% of personal trainers earn $22,960 or less each year. The top 10%, on the other hand, earn more than $75,940 a year.
However, the range can be very wide depending on the level of education and training you've received. It also varies based on how much you put into it. There are plenty of part-time personal trainers who just enjoy the environment. Unfortunately, this data does not distinguish the difference.
If you're just starting as a personal trainer and have no experience or education, it'll take time to build up your client base and increase your income.
On the other hand, if you're an experienced personal trainer who has been in practice for many years, and has a full schedule, then you can expect to make much more than this average salary.
Personal Trainer Salary Based on State
Personal trainer salaries vary based on location and the type of company they work for. Personal trainers in California can expect to earn more than those in rural areas. But, then again, the cost of living is more expensive in California so you'd have to charge higher fees for your services.
Here are the 10 states with the highest wages for personal trainers:
California
Hawaii
Washington
Connecticut
Alaska
Massachusetts
Nevada
Vermont
New Hampshire
Maryland
To make things easier, here's a table that shows how much each of these states pays on average for personal trainers.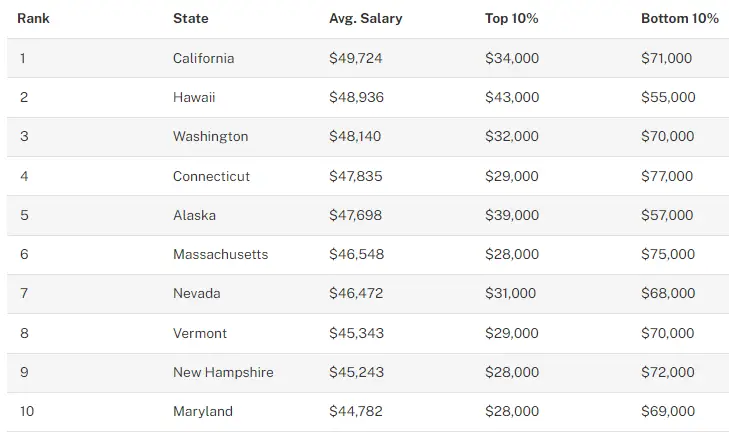 As you can see, California is the highest-paying state for personal trainers, with an annual salary of $49,724 on average.
South Carolina has the lowest average yearly income for personal trainers in all 50 states, at $23,817.
Personal Trainer Salary Based on Popular Gym Chains
The benefits of working as a fitness expert at a large gym or fitness facility are numerous. As a personal trainer working for either of these, you could get PT insurance, health insurance, paid time off, and a 401(k).
Note: There is also an often understated and under rated benefit of working for a gym. That is the experience that you gain. You don't have to run around and find your clients, they are given to you. The gym most often provides or funds your training so that you get better. That's called getting paid while you learn. Don't underrate it.
Personal trainer salaries aren't exactly one size fits all. They vary widely from one gym to another.
Some gyms may not have the best personal trainer salaries. However, lots of potential trainers still want to consider them because of the additional benefits they offer.
That said, let's take a look at some popular gyms and their trainer compensation rates.
Lifetime Fitness: $63,240 per year ($32.43 per hour)
LA Fitness: $53,648 per year ($27.15 per hour)
24-Hour Fitness: $53,580 per year ($26.79 per hour)
Gold's Gym: $43,940 per year ($21.97 per hour)
Anytime Fitness: $41,579 per year ($19.99 per hour)
Planet Fitness: $22,423 per year ($13.85 per hour)
Personal Trainer Salaries Based on Type
Personal trainers don't all fall into the same category. There are many different types out there, each with a specific job.
The following are the best-paying positions for personal trainers, according to ZipRecruiter. Let's see how much each one makes!
1.   Outdoor Fitness Trainer
Some of these jobs are located at camps, resorts, or fitness facilities with indoor and outdoor activities. This includes rock climbing coaches, guides, etc. Currently, the average yearly pay for outdoor fitness trainers in the US is between $31,000 and $62,500.
This wide range of compensation possibilities shows that there may be several prospects for growth and improved pay.
This, of course, is based on skill level, location, and experience level.
2.   Certified Personal Trainer
Most certified personal trainers' salaries in the US now fall between $37,500 and $61,500 a year.
Although some growth is possible, the moderate range of earnings shows that the income in this position will be stable. This is regardless of skill level, location, and experience level.
3.   Fitness Coach
A fitness coach in the United States earns between $32,500 and $56,500 per year. This is just the base salary, without the additional pay.
Additional pay could round up to $4,165 a year. This includes cash bonuses, commission, tips, and profit sharing.
4.   Fitness Consultant
Fitness consultants, who frequently deal with a wide range of clientele, make between $25,499 and $33,304 per year.
As with other employees in the fitness business, their pay varies by state. It also differs from one city to the next.
According to Salary, a fitness consultant in San Jose earns an average salary of $35,926 every year. In San Francisco, a fitness consultant makes an average of $35,782.
How Many Personal Trainers Are in America?
According to Exercise, 373,700 people worked as fitness trainers and instructors in the United States in 2019. Compared to 2012's total of 267,000, this figure has climbed by 21.5%.
Almost 60% of these worked for fitness and leisure sports facilities. Only 11% of people owned their businesses.
The government, nonprofits, and civic and social institutions employed the remaining 89%.
How Many Personal Trainers Are Women?
The data science team at Zippia found that men make up 63.3% of the overall population of personal trainers in the United States. This results in 36.7% of the population being women.
Assuming there are 373,700 personal trainers currently employed in the United States. 236,552 of them would be men, while 137,147 of them are women.
How Much Do Female Personal Trainers Make?
If we look into women's salaries in the fitness industry, Virtuagym says that female personal trainers earn 70% of what male trainers make. In other words, female personal trainers earn $37,300 per year.
Many people think this is because women start their PT careers later than men do, which results in less experience and lower compensation. It could also have to do with scheduling and more women doing it as a side hustle or part-time.
Common Ethnicities of Personal Trainers
The majority of personal trainers are Caucasian. It's the most common ethnicity among personal trainers, accounting for 77%. Hispanics or Latinos are the second most popular ethnic group, contributing to 10% of the personal trainer population. Following that are African Americans, who make up 5.7% of personal trainers.
Here's a list of the most prevalent ethnicities among personal trainers.
| | |
| --- | --- |
| Ethnicity | Percentage |
| White | 77% |
| Hispanic or Latino | 10% |
| Black or African American      | 5.7% |
| Asian | 4.1% |
| Unknown | 2.5% |
| American Indian and Alaska Native   | 0.7% |
Personal Trainer Salary Based on Race
In terms of ethnicity, Zippia states that Asian personal trainers earn the highest average salary compared to other races.
African Americans are the second highest-compensated ethnic group. Following them are the Hispanics or Latinos.
Although Caucasians make up the majority of the personal trainer population, they're the lowest-paid of the ethnic groups.
Take a look at the average salary for each race below:
Asian: $64,621
African American: $62,677
Hispanic or Latino: $62,619
Unknown: $62,329
White: $61,820
Average Age of Personal Trainers
The National Library of Medicine performed research with 605 personal trainers. The gender split was 54.5% female and 45.5% male.
According to the survey, the average age of a personal trainer is 39.8 years old.
Zippia also calculated the average age of personal trainers based on gender and ethnicity. Here's what they found:
| | | |
| --- | --- | --- |
| Race | Male age | Female age |
| Caucasian | 31 | 40 |
| African American | 34.5 | 31 |
| Asian | 37 | 34 |
| Hispanic or Latino | 30 | 34.5 |
| Unknown | 27 | 39.5 |
How Many Hours Does a Personal Trainer Work?
Personal trainers, according to Exercise, put in 25-30 hours a week for training sessions.
They still, however, require non-training time for things like scheduling, billing, working out, advertising their company on social media, procuring new clients, writing programs, and more.
How Many People Hire Personal Trainers?
In 2016, 17.2% of customers between the ages of 18 and 34 hired a personal trainer. This makes millennials the group with the highest participation rate.
Currently, almost 3 million millennials have used a personal trainer, accounting for 39.6% of all consumers.
How Long Does a Personal Trainer Stay in the Profession?
The answer to this question isn't exactly clear-cut. Several things might determine how long a personal trainer stays in the industry.
If a personal trainer is just starting, and are working as an independent contractor, they'll most likely need to be patient to commit to it for the long haul. They're not promised many clients and their income may be minimal. So, you'll find that many independent personal trainers don't survive long in the industry.
Zippia looked at 45,858 personal trainer resumes. By doing so, they discovered that 31% of personal trainers stay at their job for 1–2 years.
Here are some additional personal trainer time durations and percentages that might interest you:
| | |
| --- | --- |
| Number of years in the position | Percentage |
| Less than 1 year | 26% |
| 1–2 years | 31% |
| 3–4 years | 12% |
| 5–7 years | 17% |
| 8–10 years | 6% |
| 11+ years | 8% |
How Many Personal Trainers Are Certified?
The personal training profession is expanding as more people get certified. There are now approximately 125,506 certified personal trainers working in the United States. The pandemic definitely affected the fitness industry, so this number is likely much lower than it would have been. It is also important to take into consideration that many personal trainers aren't certified, so this number isn't a complete picture.
Furthermore, women make up 46.5% of certified personal trainers, while men make up 53.5% of certified personal trainers.
Average Salary of Certified Personal Trainers
A certified male personal trainer makes $48,471 on average each year. A certified female trainer earns an average of $46,560 per year.
Foreign Languages Personal Trainers Speak
According to studies, the most common foreign languages spoken by personal trainers are Spanish, Portuguese, French, German, and Thai. The study also found that more than 50% of personal trainers speak more than one language.
Another interesting finding was that personal trainers are more likely to speak Spanish than other languages. Let's take a look at some numbers.
| | |
| --- | --- |
| Languages | Percentage |
| Spanish | 62.1% |
| French | 7.5% |
| Portuguese | 3.7% |
| Thai | 3.2% |
| German | 3.0% |
| Other | 20.5% |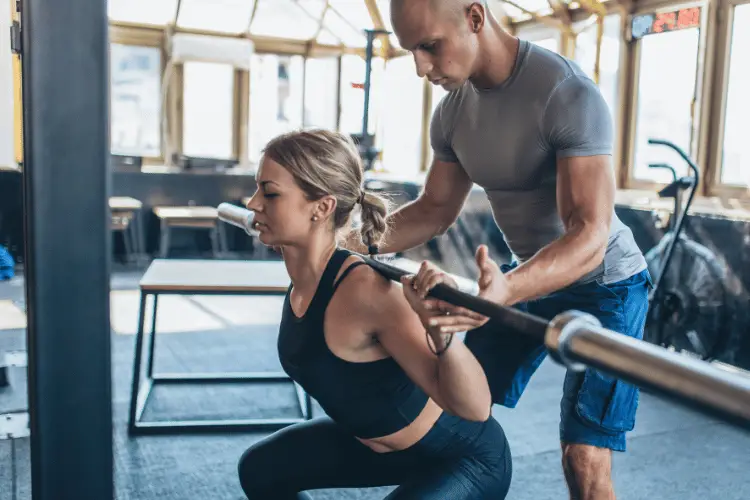 Personal Trainer Satisfaction
CareerExplorer surveyed millions of people to see how pleased they are with their jobs. When it came down to personal trainers, they ranked their satisfaction at 3.5 out of 5 stars. This places them in the top 31% of all professions.
But what exactly does happiness mean in this context? Let's break it down and go through each point individually.
1.   Salary
Personal trainers ranked their salary satisfaction as 2.7/5. As you can see, personal trainers are often dissatisfied with their income, with relatively few claiming satisfaction.
| | |
| --- | --- |
| Rank | Percentage |
| 5 stars | 7% |
| 4 stars | 17% |
| 3 stars | 30% |
| 2 stars | 28% |
| 1 star | 18% |
2.   Fulfillment
Another question asked was whether or not these personal trainers considered their professions meaningful. They gave that an average rating of 3.4 out of 5 stars.
This suggests that the majority of trainers found their jobs fulfilling and meaningful, at least to a certain extent.
| | |
| --- | --- |
| Rank | Percentage |
| 5 stars | 22% |
| 4 stars | 29% |
| 3 stars | 26% |
| 2 stars | 16% |
| 1 star | 7% |
3.   Personality Fit
Averaging 4.1 out of 5 stars, personal trainers rated how well their personalities and jobs complemented one another.
Only a few personal trainers have concerns about how well their personalities match their profession.
| | |
| --- | --- |
| Rank | Percentage |
| 5 stars | 44% |
| 4 stars | 33% |
| 3 stars | 15% |
| 2 stars | 5% |
| 1 star | 3% |
Work Environment
Personal trainers gave their work environment an overall satisfaction score of 3.8 out of 5.
A big percentage of personal trainers like their work environment, which likely contributes to overall job satisfaction.
| | |
| --- | --- |
| Rank | Percentage |
| 5 stars | 33% |
| 4 stars | 33% |
| 3 stars | 21% |
| 2 stars | 9% |
| 1 star | 3% |
Abilities
The personal trainers evaluated their skill usage at 3.2 out of 5 stars. The majority of personal trainers are happy with the effectiveness of their skills and abilities.
| | |
| --- | --- |
| Rank | Percentage |
| 5 stars | 19% |
| 4 stars | 23% |
| 3 stars | 30% |
| 2 stars | 19% |
| 1 star | 8% |
Industries That Hire Personal Trainers the Most
Experts analyzed the number of employees in each industry and identified the ones that hire the most personal trainers. Among the leading sectors were health care, insurance, and hospitality.
Personal trainers account for 26% of the healthcare industry, 23% of education, and 7% of the hospitality industry. They also make up 6% of non-profit employees and 5% of government employees.
Personal Trainer Degree Levels
Of those personal trainers who went to college, bachelor's degrees are the most popular for personal trainers. It's obtained by 67% of personal trainers. Associate degrees come in second with 14%, and master's degrees come in third with 7%.
| | |
| --- | --- |
| Degree | Percentage |
| Bachelors | 67% |
| Associate | 14% |
| High school diploma | 7% |
| Masters | 7% |
| Other degrees | 5% |
Personal Trainer Salaries Based on Degree
A Master's degree increases the annual salary of a personal trainer to $63,246. On the other hand, trainers with a Bachelor's degree earn an average of $61,652 per year.
Furthermore, those with an Associate degree make $56,237 a year. Last but not least, PTs with a high school diploma or less earn $52,556 each year.   
Why Do Personal Trainers Choose This Field?
OriGym conducted a poll of over 3,000 personal trainers to determine why they decided to pursue a profession in fitness in the first place.
They offered them five options, and this is what they found:
43% had a strong passion for the field.
34% wanted to help others.
12% wanted to be their own boss.
6% wanted to earn good money.
5% gave other reasons.
How Many Clients Does a Personal Trainer Have?
The average personal trainer has 15 to 25 clients per week. This number can vary greatly depending on the type of trainer you are and how long you've been in business.
Keep in mind that some trainers only work with one client at a time and some train groups of clients (i.e., boot camps).
The trainer's location also plays a huge role. For instance, if you're in a smaller town with fewer people interested in personal training, you'll likely have fewer than 10 clients per week.
If you're in a larger city with more people interested in fitness, you may have 15 or more clients per week.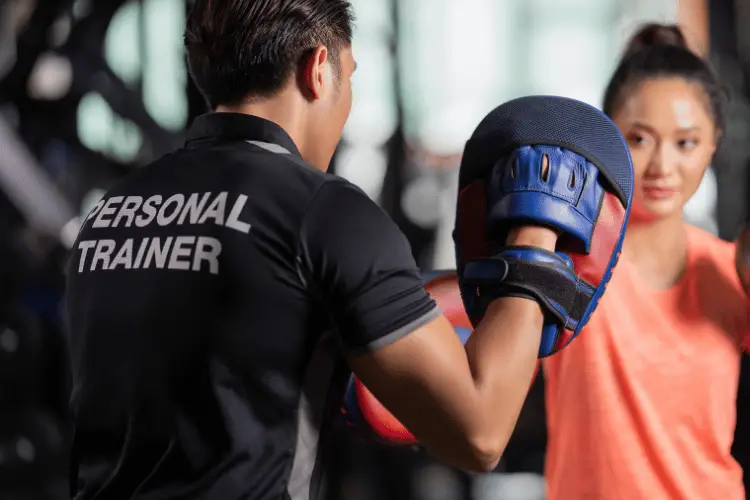 How Many Personal Trainers Work Online?
The exact number of personal trainers who work online isn't known. However, we do know that there's a lot! The reason for this surge in online personal training is simple: gyms across the country shut down for a pandemic.
According to the Personal Trainer Development Center, 39% of trainers reported they trained online just before COVID struck. They didn't necessarily work full-time, but they did do some kind of internet fitness service. By August 2020, the figure had risen to 83%!
Pandemic Impact on Fitness Industry
The Personal Trainer Development Center carried out a survey to evaluate how the epidemic was affecting the personal training business. This is what they discovered:
Before the pandemic, 60% of trainers met with their clients face-to-face, 7% provided coaching virtually, and 32% mixed in-person and online training.
Following the pandemic, just 14% intended to coach in person, representing a 75% drop. 21% expected to work mainly online, which is a 300% rise from the previous year.
Furthermore, 62% planned to combine both of the above. Lastly, 1% of trainers intended to quit the fitness business.
Personal Trainer Injuries
Fitness is a hot trend, and people want to live healthier lives. But what are the risks of working as a personal trainer?
Personal trainers are at risk for all kinds of injuries. The National Library of Medicine reports that the most frequent injuries seen by personal trainers during sessions are as follows:
Shin splints
Rotator cuff tear/tendonitis
Cervical muscle strain
Lumbar muscle strain
Ankle sprain
The same study given to personal trainers revealed that 50.4% of the injuries were lower extremities. Upper extremity injuries, on the other hand, accounted for 22.4% of all injuries.
| | | |
| --- | --- | --- |
| Type of injury | Total injuries | Percentage |
| Head/neck | 626 | 12.5% |
| Upper extremity | 1117 | 22.5% |
| Lumbar spine | 724 | 14.6% |
| Lower extremity | 2508 | 50.4% |
Personal Trainer Industry Estimated Growth
The personal training industry has been growing rapidly over the past several years. The number of clients served by personal trainers shows no sign of slowing down.
Let's take a look at some of the key statistics behind this exciting industry:
According to the Bureau of Labor Statistics, the employment of fitness trainers and instructors is expected to expand by 19% between 2021 and 2031. Reports say this is substantially faster than the national average for all occupations.
On average, 65,500 new job vacancies for fitness trainers and instructors are expected per year during the next decade.
The majority of those positions are likely to be filled right away. This is because the industry needs to replace workers who quit the profession or have retired.
In addition, the fitness sector is growing at about 1% each year. By the looks of it, it should expand by 10% in the next ten years.
Online Fitness Market Estimated Growth
In 2019, the worldwide virtual fitness industry was worth $6,046 million. Following the pandemic, the global online fitness market rose to $7,995 million in 2020.
Nowadays, it's expected to be worth $59,231 million by 2027, with a compound annual growth rate of 33.1% from 2020 to 2027.
The key factors contributing to this growth are:
Increasing awareness about the importance of physical fitness among people across the globe
Increasing demand for at-home workout equipment, especially in urban areas where people don't have access to gyms or other fitness facilities
Increase in popularity of online personal training sessions among millennials
Let's Wrap It Up
Personal trainers are the backbone of any good fitness program. They help you get fit and stay that way. As you can see, personal trainers are in high demand as more and more people are willing to invest in their health than ever before.
The available statistics related to this popular career field can help you gain a better understanding of what it takes to become a personal trainer. They can also help you know what to expect as you embark upon a personal training career.
We hope that you enjoyed learning all about personal trainer statistics. See you next time!
References