Hiking is one of the most impactful experiences for anyone who enjoys the outdoors. Walking through trails and enjoying the scenery is a great way to unwind and avoid the hustle and bustle of the city.
In this article, I'll answer all sorts of questions by walking you through critical hiking statistics and facts that pertain to the activity. So, without further ado, let's dive in!
How Many People Go Hiking in the U.S. Every Year?
Hiking is growing in popularity in terms of outdoor activities in the U.S.
Here are some figures regarding hiking popularity and the number of people participating in the activity:
According to recent reports from Statista, 58.7 million people went hiking in 2021 alone!
A 2019 illustrated study by Travelness shows that running is the most popular activity with 61.0 million participants while hiking came as a close third after fishing (50.1 million then 49.6 million).
The Number of Hikers Keeps Growing
There has been a consistent increase in the number of hikers for a very long time now. Of course, this is mainly due to population growth, but also because more and more people are discovering the joy of spending some time outdoors.
Here is a quick look at the number of hikers and how they grow almost every year from 2010 to 2021:
| | |
| --- | --- |
| Year | Number of Hikers |
| 2010 | 32.53 million |
| 2011 | 33.49 million |
| 2012 | 34.52 million |
| 2013 | 34.38 million |
| 2014 | 36.22 million |
| 2015 | 37.23 million |
| 2016 | 42.13 million |
| 2017 | 44.90 million |
| 2018 | 47.86 million |
| 2019 | 49.70 million |
| 2020 | 57.81 million |
| 2021 | 58.70 million |
Key Hiking Demographics
Almost all people enjoy hiking but it's natural that some people may find it more enjoyable than others.
While it's difficult to pull data from all kinds of hikers, Trek.co and Zippia conducted demographic surveys on particular trails, which we can use as a sample to extrapolate. Here's a quick look at the findings of these surveys:
Hiking is popular among all ages between 13 to 70 years old. The average age of hikers is 43.9 years old, but the Appalachian trails' average age is 36 years old.
18% of hikers are between 30 to 49 years old, followed by 17% from 18 to 20 years old, then 16% from 50 to 64 years old.
There are more male hikers than females, with biological males making up between 59.4% to 71.4% across different surveys as compared to 28.6% to 40.6% females.
Whites make up the majority of the hikers' ethnicities with around 95.0%, followed by Hispanics/Latinx (2.0%), Asians (1.4%), and black (less than 1%).
Around 45% of Appalachian Trail hikers have a bachelor's degree and only 0.3% of hikers didn't finish school (mostly due to young age).
In 2020, youth (aged 6 to 17 years old) participating in hiking made up 15.9% of the total number of hikers (around 9.22 million), growing from 5.8 million in 2007.
How Many Hiking Trails Are There in the U.S.?
According to the Pacific Crest Trail National Association, America's National Trails System consists of
11 National Scenic Trails
19 National Historic Trails
7 Connecting Trails
Over 1,300 National Recreation Trails
These hiking trails come in a wide variety of shapes, widths, and levels of difficulty, spanning a whopping distance of 88,600 miles.
A lot of these trails are within National Parks, with a combined trail distance of around 21,000 miles, according to the National Park Service (NPS).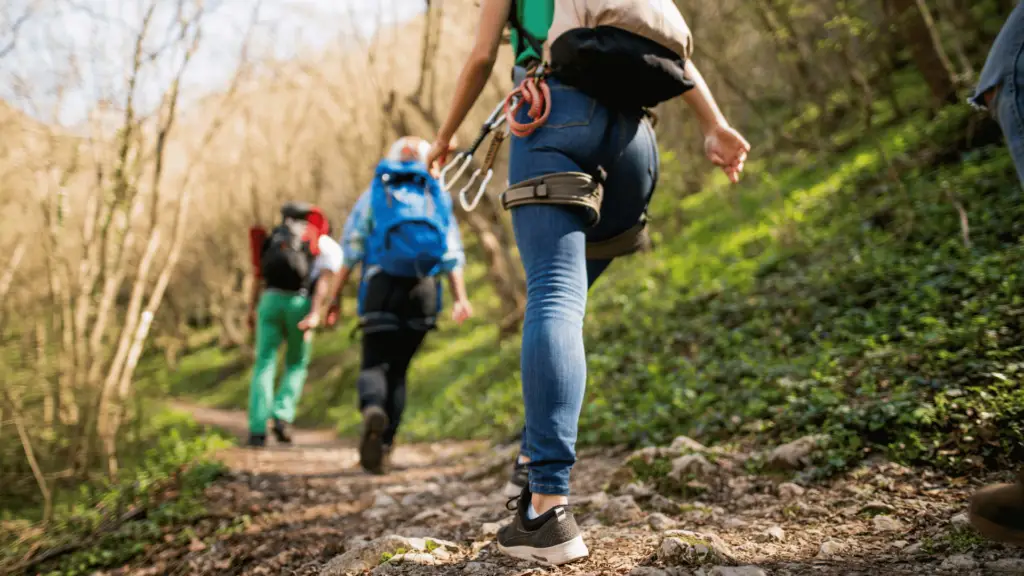 Hiking Trails Are Increasing Over the Years
One thing you should know about the previously mentioned numbers is that they're continuously growing!
The American Hiking Society released a report in 2015 about the hiking trails that show their incredible expansion over the decades!
When President Lyndon B. Johnson established The National Trail System Act in 1965, the allocated trails on Federal land were only 88,000 miles, and on State land were 15,000 miles. Now the trails on Federal land are over 193,500 miles and on State land they are over 42,500 miles.
This means that the American Trail System as a whole nearly increased by over 135% in 50 years!
How Long Is the Average Hiking Trip?
The distance of a trip varies significantly depending on the conditions of the terrain, the level of preparedness, and the hikers themselves.
Ideally, an average person is capable of hiking around 8 to 15 miles a day, according to most hikers on BackpackingLight.
By doing the math, even a slow hiker who moves at a relatively slow pace of 2 mph can cover up to 8 to 10 miles by hiking for 5 to 6 hours a day.
Experienced hikers are expected to cover more distance per day, with many of them going 10 to 20 miles (or more) a day, depending on their build, endurance, and terrain.
Thru-hikers of the Appalachian Trail have an average mileage of 15 miles per day, with over 66% of them maintaining an average hiking pace of around 12 to 18 miles per day.
What Are the Longest Hike Trails in America?
Hike trails can be short, long, easy, challenging, and everything in between. Keep in mind that the longest doesn't necessarily mean the most popular.
Here's a quick look at the longest hike trails in America:
American Discovery Trail
The American Discovery Trail is the longest recreational trail to cross in America.
It's actually a network of trails and road systems that collectively cover the United States from coast to coast.
The American Discovery Trail stretches over a whopping distance of 6,800 miles with the trailheads extending from California's coast on the Pacific Ocean to Delaware's Coast on the Atlantic ocean.
North Country Trail
Also known as "The North Country National Scenic Trail" or simply NCT".
The North Country Trail extends over a total distance of 4,800 miles and crosses 8 states from Middlebury, Vermont to Lake Sakakawea in North Dakota.
It crosses over 10 National Forests and 100 state parks.
Pacific Crest Trail
The Pacific Crest National Scenic Trail (PCT) is a relatively new trail that was completed in 1993.
The total distance of the trail is around 2,650 miles long and is aligned with the highest parts of the Sierra Nevada and Cascade mountain ranges.
Appalachian Trail
While not the longest, it's one of the most popular long-distance trail roads in America. (more about that in the following sections).
Throughout its footpath, the trail crosses 14 states from Maine to Georgia, spanning a distance of a little under 2,200 miles.
Pacific Northwest Trail
The Pacific Northwest Trail (PNT) is one of the relatively easy long-distance hike trails.
It extends over a distance of 1,200 miles running from Montana to the Olympic Coast in Washington.
What Is the Most Common Time to Hike?
Ideally, you can hike almost any time of the year as long as the hiking trail is open to the public, which indicates its safety.
However, some seasons are more popular than others, so here are some statistics and numbers regarding the common times to hike:
Spring is the most popular time of year to go hiking, with 36% of survey respondents picking it as the ideal season for hiking.
Winter comes second as the most popular time for hiking at 31%, followed by Summer at 20%, then Fall at 13%.
March 27 is the most popular day for thru-hikers to begin their journey to hike through the Appalachian Trail
Most northbound thru-hikers manage to finish the Appalachian Trail anywhere between early September and early October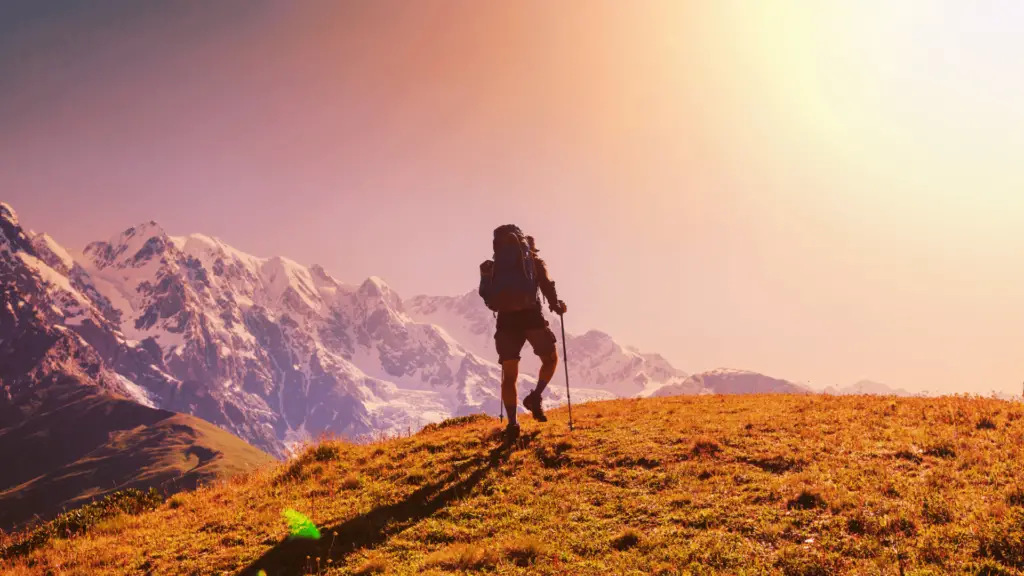 How Hard Is It to Hike the Appalachian Trail?
The Appalachian Trail is, by far, the most popular trail in America. It spans a whopping distance of 2,194.4 miles or around 5,000,000 steps!
The distance changes slightly every year for various reasons such as using more accurate systems to measure the footpath and relocations/rerouting of some parts during renovations.
Here are some impressive statistics about the Appalachian Trail:
At the regular hiking pace with occasional rests, it should take you around 4 to 7 months to complete the Appalachian Trail all the way through.
According to the Appalachian Trail Conservatory, a total of 21,553 hikers managed to traverse the Appalachian Trail all the way through, which are called the "2000 milers".
The number of the 2000-milers in the 2010s almost doubled compared to the 2000s (9,946 to 5,970).
Around 3 million people visit the Appalachian Trail every year, but most of them enjoy short trips.
Between 20% to 25% of the Appalachian Trail thru-hikers managed to complete the trail all the way. However, around 32% originally intended to cross specific sections.
Among those who finish the Appalachian Trail, 72% are males and 28% are females.
Chair Myron Avery was the first person to finish the trail in 1936, and Mildred Norman was the first female to join the "2000-milers" club.
The average male hiker crossing the Appalachian Trail carrying an average backpack requires around 690 calories per hour.
Is Hiking with Other People Common?
In a survey by OneTravel, hikers were asked about their preferences when it comes to hiking with companions. Here are some statistics regarding partners during hikes:
Only 18% of the hikers said that they prefer solo hiking while 82% of respondents said that they enjoy hiking with other people.
The most popular companion for hikers are close friends at 57%, followed by romantic partners at 18%.
9% of hikers said that they don't mind tagging along with a fellow hiker that they met on the road.
Dogs are also common partners during short hikes but they're highly unrecommended for long ones. Unfortunately, 50% of the dogs accompanying hikers on the Appalachian trail don't make it through and many of them die.
How Often Do People Go Hiking?
Some people enjoy hiking up to 5 times or more per year while others may enjoy a short trip every few years.
The previously mentioned survey by OneTravel also inquired about the frequency of hike trips here's how the population sample responded.
55% said that they may go on a hiking trip once or twice annually
18% said that they may go once every couple of months
13% said that they go hiking at least once every month
7% said that they would hit a hiking trail every weekend
9% said they never went hiking regularly.
Is Hiking Dangerous?
The danger level of hiking varies depending on where you're hiking and the local risks that you're surrounded with. Here are some important statistics about the dangers of hikes.
How Many People Get Injured While Hiking?
According to reports, there's an average of 6.1 injuries for every 1000 participants in hiking of all levels.
Falling is responsible for over 50% of all injuries suffered during hikes (fatal and non-fatal).
Females are more likely to suffer non-fatal injuries than males during hikes, making up 55% of all injuries compared to 45% for men.
How Many People Get Lost While Hiking?
Getting lost while hiking is very common with thousands of hikers reported missing. However, the vast majority of them are usually found.
Only 28 cases of lost hikers have ever gone cold.
Solo male hikers make up 48% of all lost hiker cases, followed by 31% for solo females.
How Many People Die Hiking?
Every year, 4 deaths are recorded for every 100,000 hikers. The National Park Service mortality rate is much lower (0.1 deaths per 100,000 visitors).
79% of mortality rates are males
53% of incidences of death were ruled out as being unintentional.
Is Hiking Good for You?
According to a lot of health studies and reports, hiking is great for your overall health, whether mentally or physically. Here are some of the most fascinating facts about hiking and health!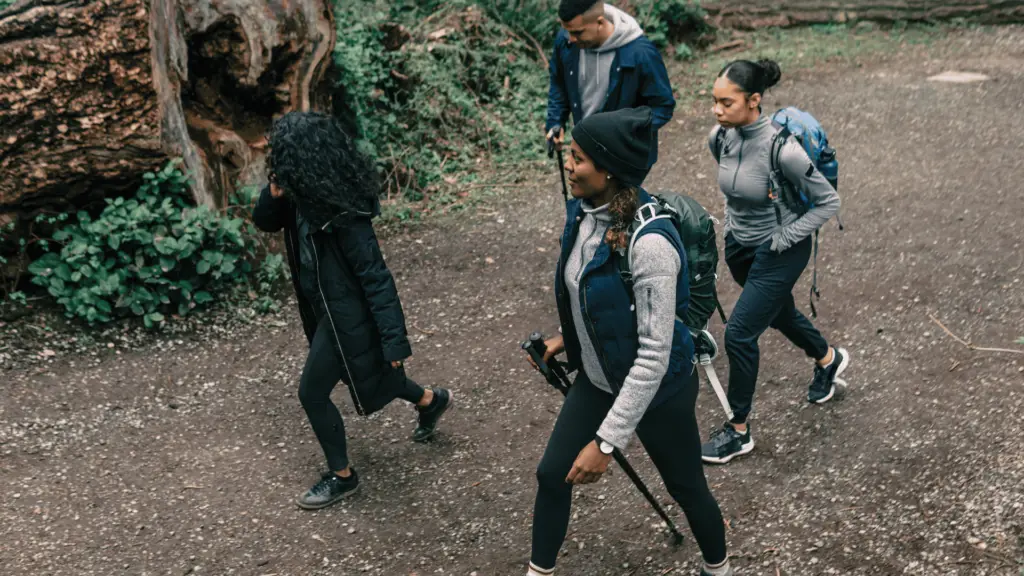 Physical Health Benefits
Mental Health Benefits
Final Thoughts
So, there are your statistics and fun facts.
As you can see, hiking can be extremely fun with tons of health benefits. And luckily, there are tons of trails that are suitable for all kinds of people. So always make sure that you're safe and pick a suitable one for your abilities.
References