When you think of sporting events that are the ultimate test of endurance and stamina, nothing tops a marathon. The sheer distance runners need to cover can be mind-boggling. 
If you're looking for a compilation of astonishing facts and statistics about marathons, you've come to the right place!
Read on to learn all about the event considered to be the pinnacle of long-distance running.
1. The Origin of Marathons
Let's start our list with where marathons first originated.
Marathon events are tributes to an intriguing tidbit of Ancient Greek lore. 
They pay homage to Pheidippides, a Greek soldier who is believed to have run to Athens all the way from the Battle of Marathon to relay the news that the Greeks had achieved victory.
He collapsed and died shortly after.
2. The World's Largest Marathon
The New York Marathon holds the distinction of being the largest of its kind. In 2022, just under 48,000 runners completed the event.
The New York Marathon has come a long way since its first edition in 1970. In the debut version of the event, only 127 runners participated, running several laps around Central Park.
3. The USA's First Marathon
The New York Marathon may be the biggest long-distance running event worldwide, but the Boston Marathon has a richer history.
It's the first marathon to ever take place in the United States. That was in 1897. Since then, it has become an annual event that's a staple of Beantown culture.
It's a yearly celebration of the perseverance of the human spirit.
4. The First Olympic Marathon
We can't have a list of facts about marathons without mentioning the Olympics.
The first Olympic marathon was held in 1896, just one year before the Boston Marathon's inception.
This long-distance running event has been part of every Olympic Games since as a test of ultimate athletic prowess and endurance.
5. The First Women's Olympic Marathon
It's unfortunate to say, but the first time that women were allowed to compete in Olympic marathons came after almost 2 centuries after the event was introduced for men.
The justification was that females simply didn't have the physical ability to run such long distances. This rationale has proven to be completely false. In fact, several studies show that women are better equipped for marathons, both mentally and physically.
The first women's Olympic Marathon winner was Joan Benoit Samuelson, who completed the event in 2 hours and 24 minutes in 1984.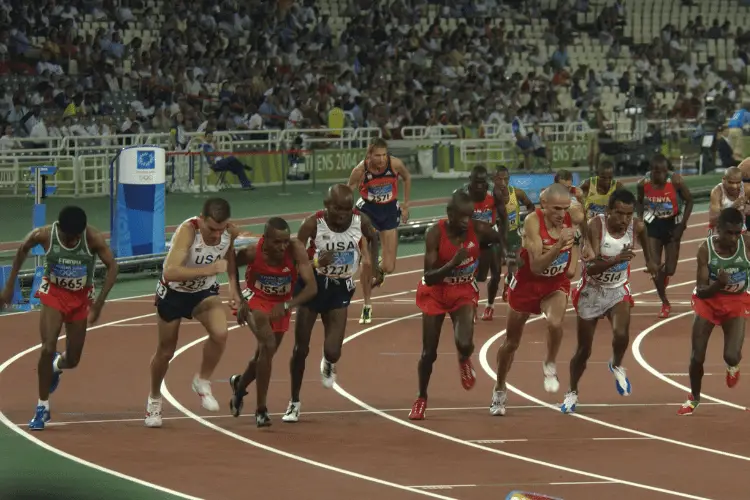 6. Calories Burned During a Marathon
The average number of calories you burn for every mile you run is 100. This means that you would burn around 2,600 calories on average if you complete a full marathon.
To put things into perspective, this is more than the recommended daily calorie intake for men or women!
If you're planning on entering a marathon, make sure that you tailor your diet to sustain you through this strenuous event.
7. Running a Marathon Can Make You Shorter
Believe it or not, running a marathon can actually affect your height!
Studies show that if a runner measures their height immediately after a marathon, they can find themselves shorter by up to 0.5 inches.
This is because of the toll that the immense number of steps taken has on their back. The strain a marathon runner's back is subjected to compresses the spine due to leakage from the discs between the vertebrae.
This may sound alarming, but it's only temporary. The long-term outcome is actually increased disc durability.
8. World Record For Fastest Marathon
The world record for the fastest marathon time ever belongs to Dennis Kimetto. 
The Kenyan runner completed the Berlin Marathon with a time of 2:02:57, breaking the record set by Patrick Musyoki back in 2011.
Paula Radcliffe holds the record for the fastest women's marathon. She finished the 2003 London Marathon in 2 hours, 15 minutes, and 23 seconds.
Perhaps even more impressive than both of these records is the one for running a marathon backward, which is 3 hours, 43 minutes, and 39 seconds.
9. The Oldest Marathon Runner Ever
If there's anyone who embodies the sentiment that age is just a number, it's Fauja Singh.
Singh is the oldest marathon runner in history, completing the 2011 Toronto Waterfront Marathon at the age of 100! He finished the event in 8 hours and 11 minutes.
Additionally, he set the record for 90+-year-old marathon runners at the age of 92 with a time of 5 hours and 40 minutes.
10. Average Marathon Completion Time
Not everyone competing in a marathon is going to be a record-setter. However, that doesn't take away from the achievement of simply completing such an arduous event.
The average completion time for marathon runners around the world is 4 hours, 32 minutes, and 47 seconds.  
11. Only a Select Few Americans Have Completed Marathons
There are over 1,000 marathons held in the United States every year, with tens of thousands of participants involved.
However, less than 1% of Americans have ever managed to complete a marathon. This goes to show the level of training and discipline it takes to see such an event through.
12. The World's Hardest Marathon
The most difficult marathon in the world is considered by many to be the Marathon Des Sables.
This is a multi-stage ultramarathon that spans over six days and requires participants to run a mind-boggling 156 miles.
What makes this marathon even more challenging is its location. The Marathon Des Sables takes runners through the Sahara Desert in Morocco. Saying that the conditions there are harsh would be putting it lightly.
Additionally, this marathon involves a stage where runners run 57 consecutive miles. This is more than the length of two full marathons!
13. Man vs. Horse
This tidbit might be the most intriguing fact on this list.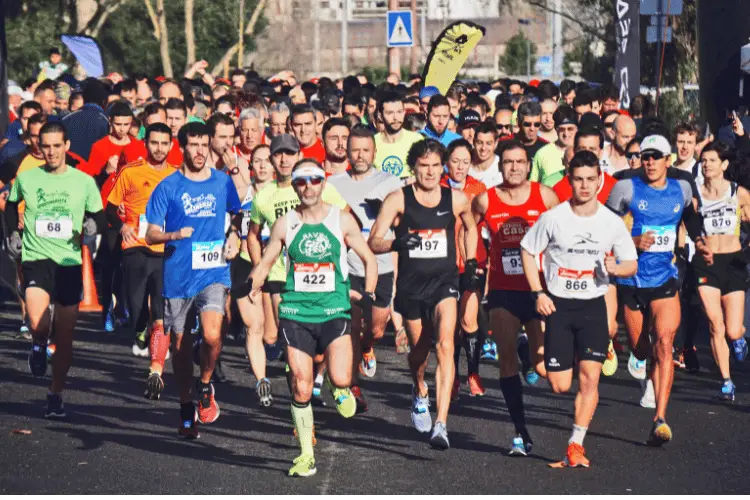 Every year, in the Welsh town of Llanwrtyd, a marathon is held where runners compete against horses!
This marathon involves a 22-mile trek across a range of terrains. Participants venture through roads, trails, and mountain paths on their way to the finish line.
Since 2004, only two humans have been able to beat out their equestrian competitors.
14. An "Other Wordly" Marathon
If you thought you had to be on Earth to participate in a marathon, think again!
In 2007, astronaut Sunita Williams was so keen to participate in the Boston Marathon that she decided to run 26.2 miles while on the International Space Station. 
It took her 4 hours and 24 minutes to complete the distance.
15. The Marathon "Wall"
If you've competed in a marathon before, you probably know all too well about the proverbial marathon "wall." This is when marathon runners start to feel the fatigue of all the miles they've run.
Historical statistics show that around 8% of runners will start to wear down when they hit the 20-mile plateau.
This shows how strenuous a full marathon can be and how well you need to prepare for it.
16. The Five Types of Marathon
Not all marathons are created equal. However, there are five main types of marathons.
Here they are summarized in the table below:
| | |
| --- | --- |
| Event | Distance |
| 10K Run | 10 KM / 6.21 Miles |
| Half Marathon | 21.1 KM / 13.1 Miles |
| Full Marathon | 42.2 KM / 26.2 Miles  |
| Ultramarathon | More than 42.2 KM / 26.2 Miles |
| Stage Races (Over Multiple Days) | Varies By Event |
17. Why is a Marathon 26.2 Miles?
You may be wondering why the standard distance of a full marathon isn't a more rounded number. The answer lies in the events of the 1908 London Olympics.
The course for the 1908 Olympic Marathon was set to be the 26-mile distance between Windsor Castle to White City Stadium.
So, where did the extra 0.2 miles come from?
The extra distance was added to make the finish line in clear view of the royal family's viewing box. The queen requested this amendment so her children could see the event's conclusion. 
18. The First Female Marathon Runner (Unofficial)
Up until 1972, women weren't allowed to enter the Boston Marathon. However, six years earlier, a woman named Roberta Gibbs decided she'd had enough.
In the 1966 Boston Marathon, she hid behind a bush and joined in with the runners anyway.
Gibbs became the first woman to complete the Boston Marathon, albeit unofficially. She crossed the finish line in 3 hours, 21 minutes, and 25 seconds.
19. Marathons Can Be a Vacation Activity
Marathon running has risen in popularity dramatically over the years. So much so that many people choose to include a marathon event in their holiday itinerary.
This is true for over 20% of marathon runners around the world.
20. Marathon Prize Money Widely Varies
While some people enter marathons simply to test their limits, others consider it a profession and seek to cash in on the prize money.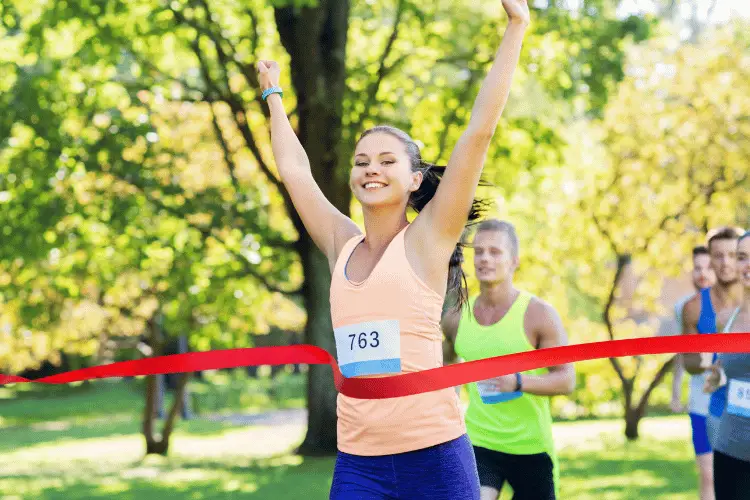 The cash prize for first-place winners in major marathons varies significantly from one event to the next.
The winner of the New York Marathon receives $130,000 in prize money. The Boston Marathon is slightly more lucrative, with a $150,000 cash reward.
The Chicago and London marathons are far behind in this regard, offering $100,000 and $55,000 to winners respectively.
21. The Highest-Paid Marathon Is in Japan
The highest-paying marathon in the world is one you may have never heard of.
It's held in Japan and is called the Nagoya Women's Marathon. Winners of this annual event receive a whopping $250,000 for their efforts.
In 2022, Kenyan runner Ruth Chepngetich was able to cash in on this prestigious prize.
22. The G.O.A.T of Marathon Running
Who doesn't love a heated debate over who the best athlete of all time is in a given sport?
In the case of marathon running, there really isn't much of a debate.
Eliud Kipchoge is considered by most to be the greatest marathon runner in history. This is to be expected since he's the only human to run a full marathon in under two hours. He achieved this historical feat in the 2019 Vienna Marathon.
The Kenyan legend also has four Berlin Marathon victories on his resume. This isn't to mention the trio of medals he's won in Olympic competitions.
23. The Secret to Kenyan Dominance in Marathons
It's no secret that Kenyans are head and shoulders above other long-distance runners across the world.
You may be wondering why this is the case.
The answer lies in their country's location. Kenya is a whopping 2,500 meters above sea level. This high altitude means that Kenyan runners train in conditions with much lower oxygen levels than usual.
As a result, their bodies adapt by producing significantly more red blood cells and hemoglobin than the average Joe. In turn, their cardiovascular system's efficiency in aerobic activity becomes superior. 
Conclusion
In the world of sports, marathons are the ultimate test of stamina, determination, and resolve. It takes a certain type of mindset to put your body and mental fortitude to the test in this way.
As a result, this ancient competition captures the minds and hearts of millions around the world. After reading the collection of facts and statistics above, you may be hyped to enter a marathon near you.
We're here to tell you that this is an excellent idea. Sure, you may not break any records, but completing a marathon will allow you to prove to yourself that you can do anything you put your mind to!
However, don't forget that this is no easy feat. It requires plenty of training and preparation. 
References
1.https://www.historyextra.com/period/ancient-greece/pheidippides-marathon-runner-battle-athens-persia-sparta/
2.https://www.baa.org/races/boston-marathon/history
3.https://www.acefitness.org/about-ace/press-room/in-the-news/8248/how-many-calories-do-you-burn-running-a-mile-healthline/
4.https://www.dailymail.co.uk/health/article-3053868/What-does-marathon-running-body-Average-runner-loses-1cm-height-sweats-6-litres-fluid-boosts-memory.html
5.https://olympics.com/en/news/who-is-fauja-singh-oldest-indian-origin-british-marathon-runner
6.https://www.marathondessables.com/en
7.https://www.wcvb.com/article/bobbi-gibb-first-woman-to-run-boston-marathon-story/43328827