Over the years, many have become interested in studying Kinesiology. After all, studying the body, human physiology, and movement enlightens us on what our bodies are capable of and how we can improve a person's strength and performance.
However, some are still curious whether the program is a practical choice. If you're looking at what to major in, you might be unfamiliar with the career opportunities that come with it.
So, how useful is a degree in kinesiology/exercise science? Considering that it's a broad field, you have a plethora of career options. You can pursue occupational therapy, wellness coaching, athletic training, physical education, personal training or research in a clinical setting. Or you can combine these different disciplines in new, unique ways.
It is beyond versatile and that can make it beyond confusing.
If you're curious to know more about how to use a degree in kinesiology, keep on reading!
Statistics on Kinesiology / Exercise Science
According to DATA USA, 31,165 people in the United States received a kinesiology and exercise science degree in 2020 alone. The number is still increasing with a 1.35% growth rate.
The University of Iowa, Texas State University, and the University of Texas at San Antonio are the institutions with the most degrees awarded in the programs.
Moreover, 644,198 people are working in the field of kinesiology and exercise science.
The U.S. Bureau of Labor Statistics projects that the number of job openings for exercise physiologists will grow annually at a 9% rate. They also stated that the employment rate for this profession increases faster than other occupations.
When it comes to the highest-paying locations, DATA USA mentioned that the top areas are Hesperia City, California; Sandoval County, New Mexico; and Muskingum, Ohio.
However, they gathered this data using Public Use Microdata Areas (PUMAs), so other places might pay just as much or offer a higher salary.
A Note on the Names and Varieties of These Degrees
A kinesiology degree has evolved into all sorts of variations, which can make it hard to understand.
For example, the University of Texas has several variations of this degree and has the following listed under Kinesiology and Health Education:
Applied Movement Science
Exercise Science
Health Promotion and Behavioral Science
Physical Culture and Sports
Sport Management
I honestly can't tell you at a glance what the difference is between each of those. If you look overseas in Europe, they also have varieties that take a ton of research just to figure out what they mean.
Here is another list of kinesiology degrees and their variations. Don't let it confuse you too much. It is best to look at the professions that utilize this degree, figure out what you want, and then find out what degree points you in that direction.
If you start at the degree and go from there, you may get lost.
Professions That Utilize A Kinesiology/Exercise Science Degree
Kinesiology and Exercise Science are two distinct programs, despite offering similar career paths. However, most, if not all, professions associated with these fields likely require a degree.
Moreover, these degrees are a prerequisite for higher education (like a Master's degree). You can use it if you want to enter physical therapy school or medical school. This degree is also useful in case you want to pursue a teaching career as well.
Furthermore, having a Master's degree in Exercise Science or Kinesiology will significantly benefit you because it'll expand your options.
With that said, below are the professions that you can pursue if you have a degree in Exercise Science or Kinesiology:
1.   Exercise Physiologist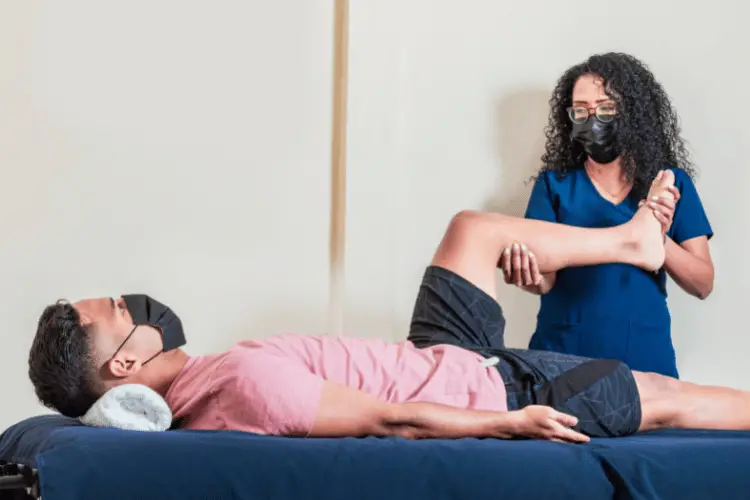 Exercise physiologists often work in hospitals with patients that are recovering from a variety of severe physical and mental illnesses. There are also exercise physiologists who work independently and serve patients across different settings.
They assess their client's fitness and devise a plan on how to maintain good health and reach their fitness goals. Exercise physiologists give advice on how people can avoid chronic conditions and injuries too.
Additionally, they help people who have chronic diseases, such as pulmonary lung disease, cancer, and diabetes, regain their strength by improving their muscles. They work with injured people by formulating a workout routine they can do to maintain an active lifestyle.
2.   Kinesiologist
Kinesiologists work in rehabilitation and wellness clinics. They're responsible for treating any medical condition that prohibits muscle movement. Moreover, they provide exercises that reduce the effect of a person's injury.
In addition, kinesiologists conduct research. They can explore and formulate new techniques through their studies. On top of that, they write about the accomplishments and pursuits related to their field.
Their target audience usually includes athletes, physical instructors, or those who are physically active.
3.   Strength and Conditioning Coach
Strength and conditioning coaches work in performance gyms where they can train amateur and professional athletes. They help condition athletes to increase performance and decrease injury. This is where young athletes are going for elite-level performance.
Compared to athletic trainers that treat and evaluate sports injuries, S&C coaches focus on sports performance.
They often work hand-in-hand with athletic trainers because the latter will provide information regarding the athletes' injuries. S&C coaches can only give a proper training program if they're knowledgeable about the background of their clients.
4.   Athletic Trainer
Athletic trainers work in universities, colleges, as well as secondary and elementary schools. There are occasions wherein they extend their service to hospitals, fitness centers, or professional sports teams.
When it comes to their responsibilities, they're the ones who collaborate with doctors whenever an athlete gets injured. Plus, they communicate with coaches to determine the best time for the athlete to return to their sport.
Moreover, athletic trainers provide first aid. With this, they help apply bandages, Kinesio tape, and braces to prevent injuries. If an athlete sprains their ankle on the field, the athletic trainer jumps in.
5.   Massage Therapist
Kinesiology degree holders can also become massage therapists since they know how the muscles of the human body work. Most of them practice their craft in a spa. It's where they can apply their knowledge through various massage techniques.
This degree is not a prerequisite to becoming a massage therapist. There are many massage therapy schools that do not require a college degree of any kind.
The average massage therapists rub the muscles until soreness disappears, the muscle relaxes, blood flow is restored, and also do a bit of connective tissue release. What sets massage therapists knowledgeable in kinesiology apart from them is that they know the body much better and can relate specific tight muscles and areas to the performance of a particular sport or how it relates to a certain movement.
In case you want to become a massage therapist, you still need to obtain a license and a certificate. The requirements will depend on your state.
For example, New Hampshire requires applicants to graduate from a massage therapy school and pass the Massage and Bodywork Licensing Examination (MBLEx).
6.   Occupational Therapist
Occupational therapists often work in assisted-living facilities and retirement communities. They treat patients with injuries, illnesses, and disabilities by engaging them in the therapeutic use of everyday activities.
Compared to physical therapists who treat a particular injury, occupational therapists help patients recover their strength so they can continue doing everyday tasks. Some activities include brushing one's teeth, dressing up, and even walking.
Additionally, occupational therapists assess the patient's home environment. They give advice to the family members on how they can help their injured loved one meet their needs. The goal is to have the patient live and function on their own.
7.   Personal Trainer
Personal trainers are those who help people reach their fitness goals and usually are found in every gym.
Not only do these trainers put together personalized exercise plans, but they also provide education on exercises and various aspects of wellness. That advice can conclude, but isn't limited to, general health and nutrition guidelines.
On top of that, personal trainers are also responsible for educating clients about the proper use of gym equipment.
Furthermore, they can work in gyms and health clubs. These are the main establishments wherein they can conduct group or one-on-one sessions with their clients.
Certification is not necessary for you to become a personal trainer. It is becoming a requirement more and more, but there is no law against it. However, certified personal trainers make more money. And certified personal trainers with college degrees tend to make even more money.
8. Physical Therapist
You can go on to do a physical therapy program after you get your undergraduate degree. This is additional schooling and the program varies depending on the school you choose.
I was personally going this route. I was close to wrapping up my degree in Exercise Science and was working at a gym as a personal trainer outside of school. Then I did some volunteer work in a physical therapy setting and it realized it just wasn't for me.
I was in a very nice gym with a lot of loud and rowdy people. The general feel of the space was pure enthusiasm. Those that were there wanted to be there to improve their fitness and health to levels never before seen.
In contrast, the physical therapy clinic was full of people who had to be there so that they could get back up to where they were before they were injured. I could have made more money if I went this route, but money wasn't my end goal.
How Can I Make a Lot of Money With an Exercise Science Degree?
Even though jobs related to kinesiology and exercise science pay decent money, some people still want to make even more. It's understandable because not everyone receives a high salary immediately—they still have to start somewhere.
As such, a great way to make more money is through selling. You can sell all sorts of things related to the fitness and health industry.
You can sell goods and services that you're knowledgeable about and related to your degree and experience. With that, below are some of the things that you can try selling to generate more money:
1.   Fitness Equipment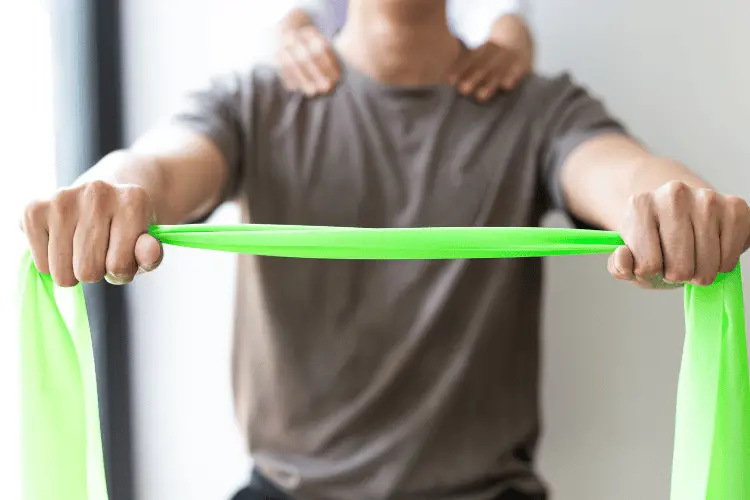 If you have a wide audience, you can sell all sorts of physical fitness products. It could be a simple yoga mat, a dumbbell and barbell set, or even balance trainers and resistance bands. You could put together a kid for them to take on the road and use in a hotel.
To do this, you have to find trustworthy wholesale suppliers offering high-quality fitness equipment. Afterward, you just market your products through the internet or word-of-mouth advertising.
If you are a hustler and are willing to talk to people, this can be a very profitable area to get into. The fitness industry is exploding and isn't going away.
2.   Gym Memberships
If you're working at a gym, you can work out commissions with management for selling memberships.
Usually gyms already have a line of products they sell and services they offer. As a qualified professional, you know that exercise works and how to help everyone, whether they are kids, teens, adults, or the elderly.
Selling a gym membership should come second nature to anyone who's studied this much about the body.
3.   Sell Your Own Supplements
White-labeling or private labeling products is a common practice in the marketing industry. It's the act of sourcing products from a manufacturer and selling them as your own by incorporating your branding and logo. You can even specify what ingredients you want in your new protein powder and have a totally different product.
A quick search on the internet will already give you trustworthy manufacturers that offer supplements available for white-labeling. As such, you'll be able to choose from an array of options as to what kind of nutrients your target market needs.
However, you should first establish your brand and its identity to ensure that you are trustworthy. Considering that you're going to sell supplements, you should study the ingredients incorporated in the pills and their effects on the human body and get it checked over and endorsed by a medical doctor.
4.   Personalized Exercise Programs
People worldwide are looking for an exercise program that'll suit their needs and body condition. So, you can lend a hand to them by offering personalized workout routines in exchange for a nominal fee.
You can do this by meeting with your client to gain a brief background about their health condition and their goals. Afterward, you'll formulate a routine plan that they can follow daily.
Even after you've given them the exercise program, you should keep in touch with them to check on their progress. It's an extra step that'll satisfy them with the service they've availed.
You can advertise your service through word-of-mouth marketing or paid advertisements on various social media sites. Internet personal training exploded during the pandemic, so there should be no problem finding out how to get started on this.
5.   Online Consultation
Booking an appointment with a physical therapist or an exercise physiologist can sometimes get tricky. It's because you have to set them days or weeks prior, and there are hospitals that don't accept walk-in consultations.
With that, you can offer your service to people in need through online consultations. You'll act like a one-call-away therapist or physiologist. If it's possible, you can also provide home-service treatments.
For this, you have to be highly tech-savvy and know how to properly set up a platform that you'll utilize for your service. It can be a website or a simple Facebook page.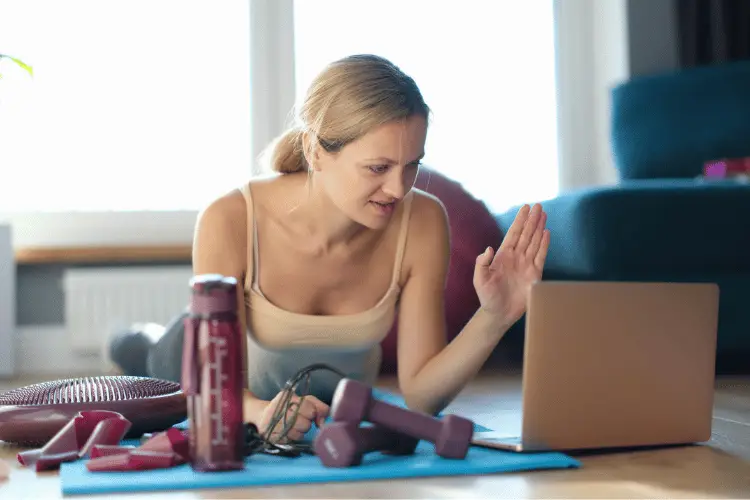 What if I Don't Know How To Sell?
Selling products and services requires you to have fantastic communication skills. You'll constantly advertise your goods in person or through videos to convince people to buy them.
If you're generally a shy person, you can learn how to enhance your communication skills by engaging in various activities.
You can get a job at a call center as it'll expose you to constant communication with others. Alternatively, you can pursue a side hustle career that sells clothes. Or just use your fitness knowledge and become a personal trainer. This forces you to work on your communication skills. It is how I learned, and it turned me from being a bit shy to being able to talk to anyone about anything.
Famous People With Kinesiology Degrees
Many people pursue kinesiology. There are plenty of celebrities who graduated from this program before they became exposed to the limelight.
The following are some famous people with kinesiology degrees:
1.   Eva Longoria
Eva Longoria Bastón is an American producer, director, and actress. She gained popularity when she portrayed Isabella Braña on the soap opera The Young and the Restless.
Before she became a Golden Globe and Screen Actors Guild Award nominee, she pursued her studies at Texas A&M University-Kingsville. There she earned a Bachelor of Science degree in kinesiology.
2.   Trish Stratus
Patricia Ann Stratigeas, known by the ring name Trish Stratus, is a Canadian actress, yoga instructor, and professional wrestler.
She studied at York University, where she majored in kinesiology and biology. However, the 1997 faculty strike led her to pursue a different career path: being a receptionist at a local gym.
Eventually, she got scouted by a fitness magazine publisher and later signed by the WWF.
3.   Terry Fox
Terrance Stanley Fox was a Canadian athlete, cancer research activist, and humanitarian. He became famous due to his journey of running across Canada to raise money and awareness for cancer research.
He went to Simon Fraser University, where he studied kinesiology. He wanted to be a physical education teacher. Sadly, his dream didn't come to life because he got diagnosed with osteosarcoma, a cancerous tumor in a bone.
4.   Bill Fitch
William Charles Fitch, more popularly known as Bill Fitch, was an American professional basketball coach. Before entering the National Basketball Association, where he won a championship title, he first coached college teams at different universities.
Bill Fitch studied at Coe College, a private college in Iowa, where he majored in kinesiology.
5.   Chaz Guest
Chaz Guest is an American artist known for his paintings and sculptures. The Huffington Post describes him as "an American artist of profound inventiveness, ingenuity, and inspiration." It's because his artworks move people emotionally.
He got a Gymnastic scholarship at Southern Connecticut State University, where he studied kinesiology and graphic design.
Takeaways
A degree in kinesiology/exercise science gives you a plethora of job opportunities.
Most people get into this field because of their passion for movement and working with others in active environments. Others get into it because they are drawn to the mechanics of the human body.
You need to find the career path that best suits you. You can work in a hospital, a fitness center, a school, a college, a lab, or even in an office.
Or, you can start your own health-related business with this degree.
Don't look at it from the viewpoint of "What will people give me if I have this degree?" Look at it from the viewpoint of what you want to do, where you want to work, and who you want to work with, then work out how this degree will help you attain that goal.