CrossFit has taken the world by storm despite surfacing only recently in the early 2000s in California.
The now-popular workout routine has many interesting statistics to prove its popularity in the U.S. and around the globe as well as its effectiveness and how it changed the fitness world. If you're interested, you'll definitely want to take a look at the following CrossFit statistics.
Let's dive in.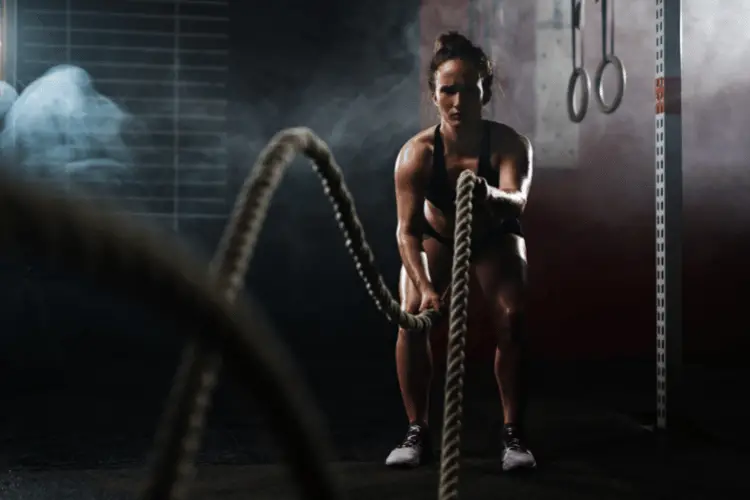 CrossFit Statistics in the U.S.A.
CrossFit was Coach Greg Glassman's creation from the 90s. During that time, he trained police officers using several exercises without sticking to a single modality.
For instance, instead of just following resistance training or cardio, Glassman created a blend of high-intensity interval workouts that pushed the body to its full potential. Soon enough, in 2000, he launched his gym in California, which was the foundation for the CrossFit concept.
CrossFit Popularity By State
Now, CrossFit as a sport is highly popular across the United States with around 7,500 affiliates, according to Rally Fitness. Here's a quick breakdown of the top five CrossFit-popular states based on the number of affiliates per capita and how trendy the term "CrossFit" is on Google:
Colorado
Hawaii
Texas
Utah
Washington
North and South Dakota came last in this ranking.
CrossFit Popularity By Age
You'll notice that the ages of people who practice CrossFit can highly vary. It's safe to say that people aged 25–44 make up the higher percentage of CrossFit participants.
This table explains CrossFit demographics in more detail:
| | |
| --- | --- |
| Age Group | Percentage of CrossFit Participants |
| 18 and under | 18% |
| 18–24 | 6% |
| 25–34 | 40% |
| 35–44 | 20% |
| 45–54 | 8% |
| 55–64 | 2% |
| 65 and above | 5% |
If you're wondering whether or not there's a difference in the interest in CrossFit between men and women – there isn't a difference. It turns out that there's 50% male participation and 50% female participation.
CrossFit Gyms and Affiliates Statistics
Despite being the rage for the last two decades or so, the official brand of CrossFit took a hit back in 2020 when more than 500 gyms cut off their affiliation programs with it.
That was the result of the then-CEO Glassman's controversial tweets in response to the Black Lives Matter movement.
Even more, Reebok decided to end its partnership with CrossFit later that year because of the same outrageous statements. Soon afterward, Glassman publicly apologized and resigned, selling 100% of CrossFit to Eric Roza, who became the company's sole CEO and owner, according to Business Insider.
Then, in July 2021, Jason Dunlop became the company's new president, who was followed by Don Foul, the newest CEO announced in 2022.
After that dip and the controversy surrounding its previous CEO and founder, the company is gradually going back to its former glory. Here are a few interesting statistics about CrossFit's gyms and affiliates in 2023:
How Popular Is CrossFit Globally?
Of course, CrossFit is most popular in the U.S. since 72% of its affiliates are based in the States. Yet, it's not surprising that CrossFit has a huge global existence because it has more than 15,000 affiliates all around the world!
To better understand its worldwide presence, let's take a look at the countries (outside of the U.S.) with the most CrossFit affiliates, shall we?
| | |
| --- | --- |
| Country | Number of CrossFit Affiliates |
| Brazil | 1,149 |
| Italy | 662 |
| Australia | 588 |
| Canada | 588 |
| The United Kingdom | 572 |
| France | 481 |
Here's another table that describes CrossFit's global popularity by general interest (using the top 5 CrossFit countries):
| | |
| --- | --- |
| Country | Popularity Percentage |
| The United States | 43.43% |
| Brazil | 6.11% |
| Canada | 5.78% |
| The United Kingdom | 4.12% |
| Germany | 3.97% |
Awe-inspiring Global CrossFit Statistics
As if the previous table wasn't enough to show how CrossFit is recognized outside the U.S., the following statistics further prove its powerful presence.
CrossFit Member Statistics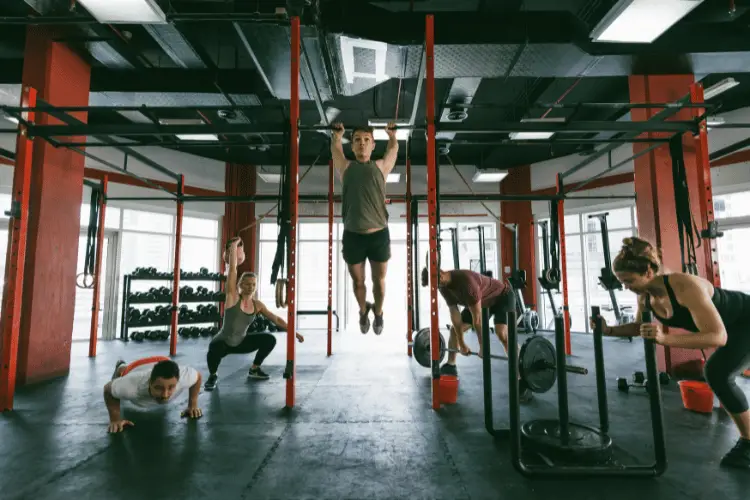 If you do CrossFit, the following statistics about other CrossFit members will give you some insight into what other participants' lives are like!
CrossFit Member Statistics by Family Status
It's been found that around 59% of CrossFit gym members have children.
CrossFit Member Statistics by Income
According to Rally Fitness, the average income of people who practice CrossFit is around $150,000 per year. While that might sound surprisingly high, it does not take into account those who do it outside of CrossFit affiliated gyms.
The average CrossFit membership costs about $150, whereas the average range for a normal gym membership will cost you anywhere between $10 to $100. The huge range in a gym's subscription depends on numerous factors, such as location, reputation, additional features, whether or not it's a big gym chain, etc.
CrossFit Member Statistics by Education
Last but not least, it's interesting how CrossFit athletes fare in terms of education. Around 40% of CrossFit members have a postgraduate degree.
CrossFit Workout Facts and Statistics
Now that we're done with all statistics regarding CrossFit's popularity in the U.S. and worldwide, its gym members, and affiliates, let's dive deeper into CrossFit as a workout.
The following explains many things about the nature of CrossFit's routines, its most famous workouts, and more!
Workouts of the Day (WODs)
A CrossFit class or session isn't your typical exercise routine. Each session is called workout of the day (WOD), and the exact workout you'll be doing is usually a surprise.
In most cases, the class itself can have up to 18 participants, which can be a bit more or fewer depending on the space available.
Still, there's a number of popular WODs that every regular CrossFitter knows, and these workouts sometimes have either female names or the names of fallen U.S. soldiers. The female names were done in the early 2000s and I remember seeing a video where Glassman was talking about mimicking them off of the names of hurricanes, like "Hurricane Lili."
The humor is that something with such a sweet name being such a "not-sweet" experience.
Here are some of the most famous CrossFit workouts and what they include:
Workout of the Day Name
Type of Workout
Linda
●      10, 9, 8, 7, 6, 5, 4, 3, 2, 1 deadlifts
●      10, 9, 8, 7, 6, 5, 4, 3, 2, 1 cleans
●      10, 9, 8, 7, 6, 5, 4, 3, 2, 1 bench presses
Annie
●      50, 40, 30, 20, 10 double-unders
●      50, 40, 30, 20, 10 sit-ups
Fran
●      21 thrusters
●      21 pull-ups
●      15 thrusters
●      15 pull-ups
●      9 thrusters
●      9 pull-ups
Grace
30 clean and jerks
Cindy
●      5 pull-ups
●      10 push-ups
●      15 squats
Helen
●      400-meter run
●      21 kettlebell swings
●      12 pull-ups
Murph
●      1-mile run
●      100 pull-ups
●      200 push-ups
●      300 squats
●      1-mile run
Jackie
●      1,000-meter row
●      50 thrusters
●      30 pull-ups
Angie
●      100 pull-ups
●      100 push-ups
●      100 sit-ups
●      100 squats
Diane
●      21 deadlifts
●      21 handstand push-ups
●      15 deadlifts
●      15 handstand push-ups
●      9 deadlifts
●      9 handstand push-ups
Becoming a Competitive CrossFit Athlete
Of course, there are certain performance standards you must meet if you want to be recognized as a competitive CrossFit athlete. These values vary from men to women.
Here's a quick comparison that breaks it down for you:
| | | |
| --- | --- | --- |
| Type of Workout | Men | Women |
| Deadlift | 3 x 1.5 BW | 3 x 1.5 BW |
| Pull-Up | 25 | 18 |
| Handstand Push-Up | 10 | 7 |
| Back Squat | 3 x 1.25 BW | 3 x 1.25 BW |
| Muscle-Up | 3 | 3 |
| Snatch | 90% of body weight (BW) | 80% of body weight (BW) |
| Press | 3 x .7 BW | 3 x .7 BW |
| 1-Mile Run | 7 minutes | 7 minutes, 30 seconds |
Amazing CrossFit Health Statistics
There's no denying how effective CrossFit is when it comes to improving your health and stamina. Not only does it boost muscular and cardiovascular endurance to great degrees, but it also has low injury and risk rates!
These statistics highlight all of CrossFit's benefits in more detail:
CrossFit Professional Statistics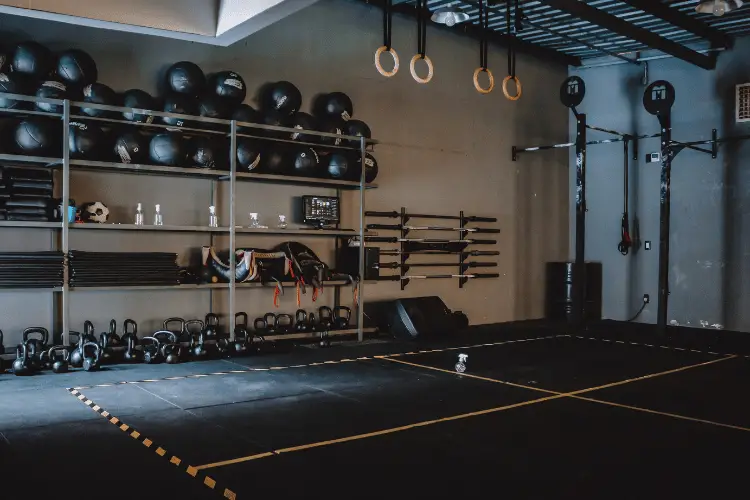 The professional world of CrossFit may seem like a huge deal to understand, but it's fairly simple. It all starts with the CrossFit Open, which is an international competition where athletes submit their scores online.
Then, athletes with the top scores in the Open will be qualified to participate in the CrossFit Games.
CrossFit Open Facts and Statistics
| | | |
| --- | --- | --- |
| Type of Workout | Men | Women |
| Dumbbell Snatch (12 reps) | 50-pound dumbbells | 35-pound dumbbells |
| Box Jump-Over (15 reps) | 24-inch box | 20-inch box |
| Wall Walk | 3 | 3 |
CrossFit Games Facts and Statistics
2022 CrossFit Games Winners
It makes sense to be curious about 2022's CrossFit Games results since they were the most recent. Here's a table that highlights the winners, second and third places, as well as their scores and prizes!
| | | | |
| --- | --- | --- | --- |
| Athlete's Name | Status | Final Score | Prize Money |
| Tia-Clair Toomey | Women's division 2022 CrossFit winner | 1,158 points | $338,000 |
| Mallory O'Brien | Women's division 2022 CrossFit second place | 1,045 points | $127,000 |
| Laura Horvath | Women's division 2022 CrossFit third place | 981 points | $90,000 |
| Justin Medeiros | Men's division 2022 CrossFit winner | 1,184 points | $316,000 |
| Roman Khrennikov | Men's division 2022 CrossFit second place | 1,157 points | $131,000 |
| Ricky Garard | Men's division 2022 CrossFit third place | 1,068 points | $90,000 |
How Did CrossFit Change the Fitness Industry?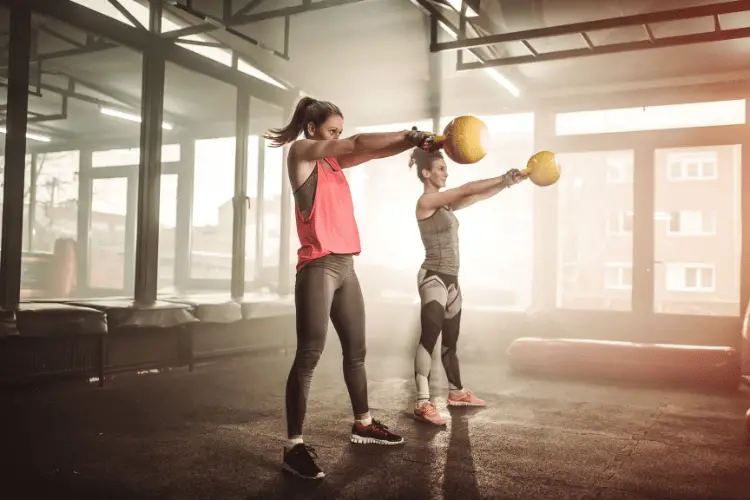 As all the previous statistics about CrossFit's popularity pointed out, CrossFit is one of the fastest-growing, low-risk sports in the fitness industry. As if these two points aren't enough, many more factors have aided CrossFit in reaching that status.
The thing about CrossFit is that it isn't like other sports or fitness regimens. It doesn't follow a certain system or rule, which makes it highly versatile and suitable for everyone. But what's everything that CrossFit brought to the table that completely changed how we see the fitness world?
The following points sum it up!
1. There's Always Something New
Every day, you'll be gearing up for a unique, high-intensity CrossFit session where you'll try a new blend of workouts in a way that's different from anything you've done before.
One of the key components of CrossFit is that it is constantly varied. The program does not want your body to get used to it and get in a rut. So, you're constantly being thrown wildly different workouts.
2. There's Some Huge Marketing Backing It Up
Another valid reason behind CrossFit's continuous growth is the way that it's marketed. Besides its user-friendly, always up-to-date website that gets thousands of visits each day, CrossFit has depended on an organic marketing approach to end them all—word-of-mouth!
Unlike all types of marketing, word-of-mouth remains the most powerful and most reliable. By establishing and maintaining an exciting workout plan and building an empire around it, there's no way that people are going to forget CrossFit any time soon.
All of this word of mouth has fueled the movement in spite of some pretty serious opposition from the mainstream fitness community.
3. It's All About Functional Training
The last point that CrossFit brought to the fitness world is incredible functionality.
Functional training is different than isolated exercises like Bicep Curls. You don't see those in a CrossFit gym. Functional training involves movements that directly apply to your daily life. The end goal is to make you a more functional human being, not to have big muscles in places that they wouldn't normally be.
To Wrap It Up
So, there are your facts and statistics.
To get a better feel for what goes on in a CrossFit gym, just walk right in and check it out.
What is best about the community is that each gym has it's own style. While we're all working out on similar programs, each gym is still very unique. And every single CrossFit gym that I've been to has willing coaches that will welcome you and help you reach your potential.
References